The Solemn Lantern Maker (Paperback)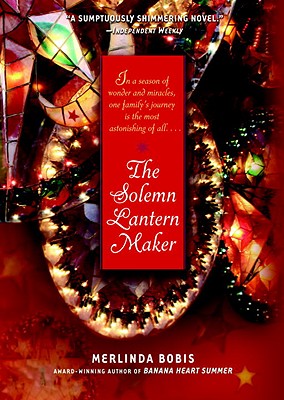 Description
---
From the award-winning author of
Banana Heart Summer
--" a] wonderful debut... that] resembles Sandra Cisneros's
The House on Mango Street
and is destined to be a hit among book club members"*--comes a wondrous tale of hope, secrets, and family devotion.
It's six days until Christmas, and on the bustling streets of Manila a mute ten-year-old boy sells his version of the stars: exquisite lanterns handmade with colorful paper. But everything changes for young Noland when he witnesses an American tourist injured in a drive-by shooting of a journalist and imagines he's seen an angel falling from the sky. When Noland whisks her to the safety of the hut he shares with his mother, the magical and the real collide: shimmering lanterns and poverty, Christmas carols and loss, dreams of friendship and the global war on terror. While the story of the missing tourist grips the media, Noland and his mother care for their wounded guest, and a dark memory returns. But light sneaks in--and their lives are transformed by the power of love.

*Library Journal ( starred review, "Editor's Pick")
About the Author
---
Merlinda Bobis has received numerous awards, prizes and fellowships for her fiction, poetry and plays, among them the Prix Italia for Rita's Lullaby, the Steel Rudd Award for the Best Published Collection of Australian Short Stories, the Judges' Choice Award (Bumbershoot Bookfair, Seattle Arts Festival) and the Philippine National Book Award for White Turtle, or The Kissing, and the Philippine Balagtas Award, a lifetime achievement award for her fiction and poetry in English, Pilipino and Bicol. Her plays have been performed in Australia, the Philippines, France, China, Thailand and the Slovak Republic. Banana Heart Summer is her first novel; its Australian edition was short-listed for the Australian Literary Society Gold Medal. Her second novel, The Solemn Lantern Maker, will be released in the U.S. in 2009. As a performer for stage and radio, Merlinda works with artists from various genres. She lives in Australia where she teaches creative writing.
Praise For…
---
"A SUMPTUOUSLY SHIMMERING NOVEL."—Independent Weekly