The Expeditions (Paperback)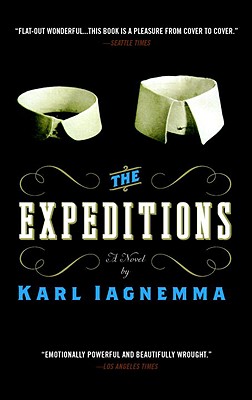 Description
---

From Karl Iagnemma, recipient of the Paris Review Plimpton Prize, comes this fierce and gorgeous novel, the story of an estranged father and son's unlikely wanderings through the Upper Peninsula of nineteenth-century Michigan.
The year is 1844. Sixteen-year-old runaway Elisha Stone has turned up in Detroit, a hardscrabble frontier town on the edge of the civilized world. Lighting out on a surveying expedition for the vast unknown wilderness of the northern peninsula, Elisha pens a heartfelt letter to his mother in Newell, Massachusetts. But it is Elisha's estranged father, the Reverend William Edward Stone, who opens the envelope. Grief-stricken by the recent death of his wife--a death Elisha could not have known about--Reverend Stone is jolted into action. He must find his son. What follows is a powerful narrative about the complex love between fathers and sons and an evocative portrait of an era of faith, wonder, and violence. A first novel of uncommon wisdom, The Expeditions is the confirmation of an extraordinary talent.
About the Author
---
Karl Iagnemma's work has won the Paris Review Plimpton Prize and been anthologized in The Best American Short Stories. He is a research scientist in the mechanical engineering department at M.I.T. His collection, On the Nature of Human Romantic Interaction, is available from Dial Press Trade Paperbacks. From the Hardcover edition.
Praise For…
---
"In these engaging "Expeditions," Iagnemma brilliantly contrasts father and son, religion and science, exploration and exploitation. His energetic and thoughtful novel captures a culture, and a loving family, at a crucial moment of change."—Andrea Barrett, National Book Award-winning author of Ship Fever and Pulitzer Prize Fiction Finalist for Servants of the Map

"Iagnemma's robust command of language creates an equilibrium between the [novel's] two narratives, marrying the poetry of science with the promise of salvation."—Kirkus Reviews

"Emotionally powerful and beautifully wrought…. One of this novel's many and considerable strengths is the way in which the author refuses to stack the decks for or against either of his protagonists or their prospective ideas—the man of faith and the man of science. Each has his flaws and each his admirable strengths."—Los Angeles Times

"A mature novel that fulfills [Iagnemma's] astounding promise."—Miami Herald

"Exhilarating ... delivers from the first page."—San Francisco Chronicle
"In these engaging Expeditions, Iagnemma brilliantly contrasts father and son, religion and science, exploration and exploitation. His energetic and thoughtful novel captures a culture, and a loving family, at a crucial moment of change."—Andrea Barrett, National Book Award–winning author of Ship Fever and The Air We Breathe

"Flat-out wonderful...this book is a pleasure from cover to cover."—Seattle Times