Wrestling With Angels: What Genesis Teaches Us About Our Spiritual Identity, Sexuality and Personal Relationships (Paperback)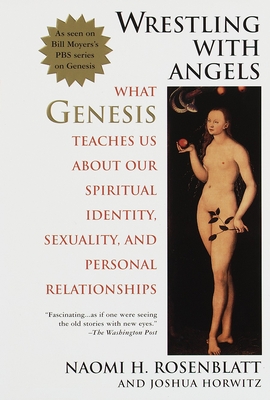 Description
---
Wrestling with Angels
For over twenty years, psychotherapist, lecturer, and Bible teacher Naomi H. Rosenblatt has been leading some of the nation's best and brightest minds through the Bible, from Wall Street boardrooms to weekly sessions in the U.S. Congress, in what William Safire has called "the best Bible class for the layman." Drawing upon insights into human nature gleaned from decades of private practice and a lifelong study of the Bible, she sifts through the Bible's epic stories, filled with vivid characters in dramatic circumstances, to show how the lessons of their lives empower us today as parents, spouses, businesspeople, citizens, and lovers.
In Wrestling with Angels, she and her co-author Joshua Horwitz retell and interpret the multigenerational saga of the first family of the Bible, showing how their all-too-human struggles are decidedly relevant to the issues confronting us today.
The Bible? Relevant today? Many readers will be surprised by how truly relevant the Book of Genesis is. It discusses, among other things, the first recorded case of sexual harassment; surrogate parenting and the problems it raises; siblings battling over the love of a parent; rape and its consequences; and vigilante justice. The issues faced by Adam and Eve, Abraham and Sarah, and their descendants are remarkably similar to those that arise in all of our lives, including:
Thestrenuous demands of adulthood
The challenges of faith
The joys of sexuality
The nature of leadership and heroism
The responsibilities of parenting
The role of values in building character
The empowerment of a spiritual identity
In this extraordinary book of timeless and profound wisdom, Naomi Rosenblatt invites both Christians and Jews to revisit our common spiritual heritage: "For the humanist, the religious, the agnostic, or the merely inquisitive, Wrestling with Angels is an open invitation to probe the mystery, the miracle, and the drama of adult life in an imperfect world."
A book to be read again and again, Wrestling with Angels is a poignant and pragmatic guide to the bestselling self-help book of all time.
About the Author
---
Naomi H. Rosenblatt is a psychotherapist, lecturer, and adult Bible class teacher. She teaches several popular Bible classes in New York and Washington, including a weekly class held at the Capitol building and attended by U.S. senators from both sides of the aisle. She lectures regularly on ethics and contemporary Bible themes, and her Bible classes have been the subject of numerous newspaper and magazine articles. She earned a master's degree in clinical social work from Catholic University and has a private psychotherapy practice in Washington, D.C. Joshua Horwitz, a student of Naomi Rosenblatt's since 1978, is a writer and publisher. He has produced award-winning documentaries for PBS, written screenplays and teleplays, and is the author of several children's and young adult books. He is also the co-founder and president of Living Planet Press.
Praise For…
---
Praise For Naomi H. Rosenblatt and Wrestling with Angels

"Naomi Rosenblatt is a remarkably stimulating and charismatic teacher. Her Bible classes were a weekly source of inspiration for all of us who attended them here at the U.S. Senate. Her book will provide a new and warm understanding of the Bible in clear and illuminating prose."
-- Howard Metzenbaum, United States senator

"Naomi vividly brings to life Jacob, Joseph and other biblical characters to provide special insights into today's world problems."
-- Arlen Specter, United States senator

"Naomi Rosenblatt is an exceptionally gifted person with a sharp mind and a winning personality. For five years I had the privilege of being her student. These were among the most challenging and rewarding years of my life."
-- Marvin Kalb, director, Shorenstein Center on Press and Politics, Harvard University

"Naomi is a wonderful person, and I don't think I have ever sat under a more effective teacher than she."
-- Reverend Richard C. Halverson, chaplain, U.S. Senate

"Wrestling with Angels is filled with powerful ethical and psychological insights which not only deepen our understanding of the Bible,but have the power to transform how we live today-which is, of course, exactly what the Bible has always intended to do."
-- Rabbi Joseph Telushkin, author, Jewish Wisdom

"Eloquently interconnecting holiness and dailiness, Wrestling with Angels illuminates the Bible's enduring relevance to our modern-day struggles and fears and profoundest yearnings."
-- Judith Viorst, author, Necessary Losses