Prize Stories 1987: The O'Henry Awards (Paperback)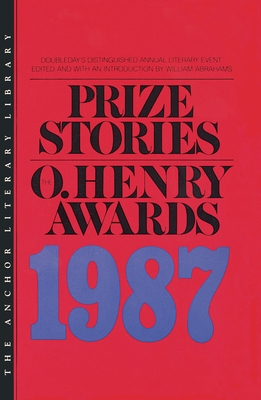 $19.00
Usually Ships in 1-5 Days
Description
---
Established in 1918 as a memorial to the master of the short story genre, O. Henry, Prize Stories has long been recognized as the premier forum for the contemporary story. The 1987 volume carries forth the time-honored literary tradition in 20 selections as original and varied as the current trends in short fiction. The top prize for 1987 is jointly awarded to Louise Erdrich for "Fleur" and Joyce Johnson for "The Children's Wing." Other stories include:
Robert Boswell "The Darkness of Love"
Alice Adams "Tide Pools"
Stuart Dybek "Blight"
James Lott "The Janeites"
Donald Barthelme "Basil from Her Garden"
Gina Berriault "The Island of Ven"
Jim Pitzen "The Village"
Richard Bausch "What Feels Like the World"
Millicient Dillon "Monitor"
Norman Lavers "Big Dog"
Robert Taylor, Jr. "Lady of Spain"
Helen Norris "The Singing Well"
Grace Paley "Midrash on Happiness"
Lewis Horne "Taking Care"
Warren Wallace "Up Home"
Joyce Carol Oates "Ancient Airs, Voices"
Daniel Stern "The Interpretation of Dreams by Sigmund Freud: A Story"
Mary Robison "I Get By.