Shards of a Broken Crown (Hardcover)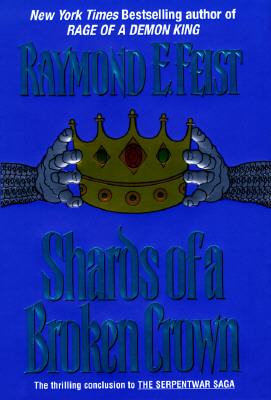 Description
---
Winter's icy grasp is loosening on the world. The Emerald Queen's vanquished army has its broken back to the Bitter Sea. And treachery is their only recourse.
A lackey has declared himself Lord of the defeated, massing the still fearsome remnants of a ruthless fighting force together for one final assault on a weakened, vulnerable realm. His dread scheme relies upon subterfuge and bitter betrayals. And when he strikes, his attack will be unanticipated and unprepared-for...and launched with a horrifying ferocity born of desperation, greed and vengeance.
For the warriors who remained steadfast against terrible numbers, for the magicians who nearly exhausted their powers to salvage a future, for the courageous souls who barely survived a devastating onslaught upon their homeland, the time to rebuild and renew has not yet come. The war is not over in Midkemia. And Jimmy and Dash, two young noble brothers who stand at the center of a gathering storm, are impelled to action that could secure a tenuous peace...or turn triumph into catastrophe.
Once more, the fates of Roo Avery and Erik von Darkmoor; of the scheming Duko and malevolent Fadawah; of Pug, Nakor, mysterious Miranda; and all the villains, royals, soldiers, thieves and sorcerers who populate this singular world are woven together into a rich tapestry of heroic deeds and devastating consequence. SHARDS OF A BROKEN CROWN is an extraordinary achievement by the bestselling storyteller whose name has become synonymous with unparalleled epic fantasy: Raymond E. Feist.