How Tia Lola Ended Up Starting Over (Hardcover)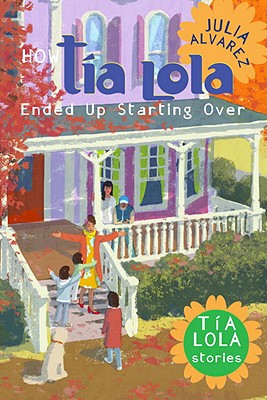 Description
---
Welcome to Tia Lola's bed and breakfast With the help of her niece and nephew and the three Sword Sisters, Tia Lola is opening the doors of Colonel Charlebois' grand old Vermont house to visitors from all over. But Tia Lola and the children soon realize that running a B & B isn't as easy they had initially thought--especially when it appears that someone is out to sabotage them Will Tia Lola and the kids discover who's behind the plot to make their B & B fail? And will Tia Lola's family and friends be able to plan her a surprise birthday party in her own B & B without her finding out?
The last book in the Tia Lola Stories
About the Author
---
JULIA ALVAREZ is the author of three other beloved Tia Lola Stories--How Tia Lola Came to (Visit) Stay, How Tia Lola Learned to Teach, and How Tia Lola Saved the Summer--in addition to several critically acclaimed books for children and adults. She is a writer-in-residence at Middlebury College in Vermont.
Praise For…
---
Booklist, November 1, 2011:
"Fans will love the continuing spats and affectionate fun, all told in the same lively present-tense voice as in the previous titles."