Good Little Wolf (Hardcover)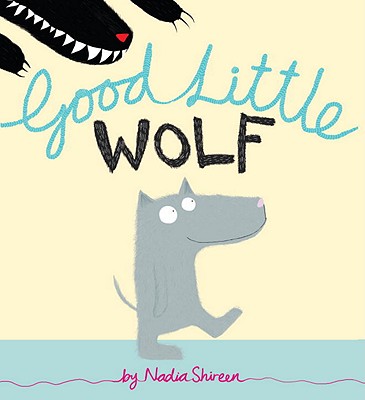 Description
---
Rolf, a small, gentle wolf, lives with Mrs. Boggins, who tells him he is a good little wolf. But when he meets up with a large, ferocious wolf, he is told that he isn't a real wolf. Wolves aren't little and good—they are big and bad. To prove he is a real wolf,  the old wolf  tells Rolf he must perform certain tasks, such as blowing down a little pig's house. Rolf is a total failure . . . until the big bad wolf urges him to do something unspeakable to old Mrs. Boggins. Then the good little wolf proves that he can stand up to the big bad bully. Or so it seems. More mature readers may find a different ending that could lead to a great discussion! Using familiar storybook characters and an endearing new hero,  Nadia Shireen makes her debut in this winning picture book.
About the Author
---
NADIA SHIREEN has been drawing all her life and recently received her MA in Children's Book Illustration at the Cambridge School of Art in England. This is her first picture book.
Praise For…
---
Publishers Weekly, August 15, 2011:
"Shireen's tight pacing and economical prose push the story forward, and her words and pictures play smartly off each other."

NYTimes.com, September 7, 2011:
"Shireen's quirky illustrations are amusing and distinctive, and the story's tweaking of children's fairytale plots works...for those mischievous young listeners who enjoy a good bad ending."

The Bulletin of the Center for Children's Books, November 2011:
"...zesty mixed-media illustrations...[and] some wolfishly amusing unjust deserts here."