La Hermosa Senora: Nuestra Senora de Guadalupe = The Beautiful Lady (Paperback)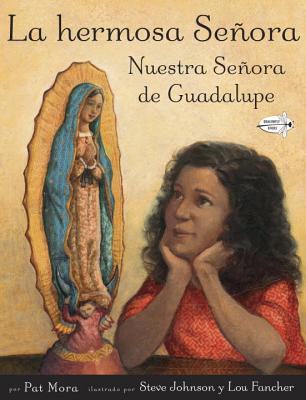 Description
---
Cada diciembre, abuelita Lupita le cuenta a Rosa la historia de Nuestra Senora de Guadalupe. Mientras ambas hacen flores de papel para colocar alrededor de su estatua, abuelita comienza: Hace mucho tiempo, durante una fria manana de diciembre, cerca de lo que hoy es la Ciudad de Mexico, un senor llamado Juan Diego se puso su tilma y comenzo a caminar...
Durante su camino, Juan Diego se encuentra con una hermosa Senora rodeada de luz, cuyo manto cubierto de estrellas, brilla. Ella le pide que visite al obispo y le diga que construya una iglesia en su nombre.
Pero Juan Diego no es un hombre rico o con influencia. Como podra convencer al obispo que la hermosa Senora aparecio frente a el? Y cuando el obispo le exige una prueba, como podra Juan Diego pedirle una sena a la Senora?
El milagro de Nuestra Senora de Guadalupe es la manifestacion de la Virgen Maria mas conocida de las Americas. La celebre autora Pat Mora, junto con los premiados ilustradores Steve Johnson y Lou Fancher traen esta historia tan querida en Mexico y el resto del mundo a los lectores pequenos por medio de una prosa lirica que invita a la lectura e ilustraciones sensacionalmente vivas.
About the Author
---
Award-winning PAT MORA's books include Tomas and the Library Lady and Dona Flor. She is an Honorary Member of the ALA, the highest honor the association bestows on non-librarian members. Husband and wife team STEVE JOHNSON and LOU FANCHER have illustrated The Boy on Fairfield Street by Kathleen Krull, My Many Colored Days by Dr. Seuss, and New York's Bravest by Mary Pope Osborne, among others.