How to Clean Your Room in 10 Easy Steps (Hardcover)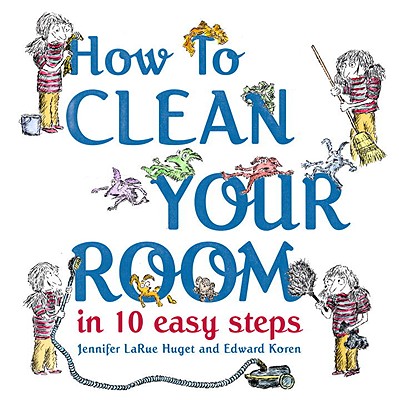 Description
---
Got a messy room? No problem
This simple, laugh-out-loud picture-book guide to cleaning your room is sure to make picking up a snap. Here is the first rule: Always wait until your mother hollers, "GET UP THERE AND CLEAN YOUR ROOM NOW " using all three of your names. Once she does, you'd better get moving. From dumping out drawers and dividing stuff into piles to arranging all eight zillion of your stuffed animals, here's the kind of advice on room tidying that "everyone" can relate to.
With funny, direct text by Jennifer LaRue Huget and amazing illustrations by "New Yorker" artist Edward Koren, this book is sure to appeal to messy kids everywhere.
About the Author
---
Jennifer LaRue Huget is the author of "Thanks A LOT, Emily Post!, " which was described as "quirky, original . . . written with clarity and wit" in a starred review by "Booklist."

Edward Koren has published nearly a thousand cartoons in the "New Yorker" magazine. He is also the illustrator of "Oops!, " a poetry collection by Alan Katz; "Thelonius Monster's Sky-High Fly Pie" by Judy Sierra; "How to Eat Like a Child" by Delia Ephron; "A Dog's Life" by Peter Mayle; and "Pet Peeves" by George Plimpton.