Amazing Peace: A Christmas Poem [With CD (Audio)] (Hardcover)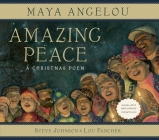 Description
---
Celebrate Christmas with the joyous poetry of the incomparable Maya Angelou.
Angelou's beautiful, moving, and beloved poem, which she first read at the 2005 White House tree-lighting ceremony, now comes alive as a fully illustrated children's book, celebrating the promise of peace in the holiday season. In this simple story, a family joins with their community rich and poor, black and white, Christian, Muslim, and Jew to celebrate the holidays.
This special package includes an audio CD of the author reading the poem aloud.
About the Author
---
Maya Angelou, American poet, historian, educator, civil rights activist, and author of twelve best-selling books.

Steve Johnson has written more than 45 books on a variety of computer software, including Microsoft Office 2007 and 2003, Microsoft Windows Vista and XP, Microsoft Expression Web, Apple Mac OS X Leopard, Adobe Photoshop CS3 and CS2, Adobe Flash CS3 and 8, and Adobe Dreamweaver CS3. In 1991, after working for Apple Computer and Microsoft, Steve founded Perspection, Inc., which writes and produces software training. When he is not staying up late writing, he enjoys playing golf, gardening, and spending time with his wife, Holly, and three children, JP, Brett, and Hannah. When time permits, he likes to travel to such places as New Hampshire in October, and Hawaii. Steve and his family live in Pleasanton, California, but can also be found visiting family all over the western United States.

Steve Johnson and Lou Fancher are an illustration team with more than forty picture books in print. Their work has garnered rave reviews and won awards. Their books include My Many Colored Days, Bebop Express, I Walk at Night, New York's Bravest, The Velveteen Rabbit, and The Salamander Room. They were also concept artists for Pixar's Toy Story and A Bug's Life. They live in California with their son.
Praise For…
---
Holiday Roundup, USA TODAY, December 4, 2008