My Dog Is as Smelly as Dirty Socks: And Other Funny Family Portraits (Hardcover)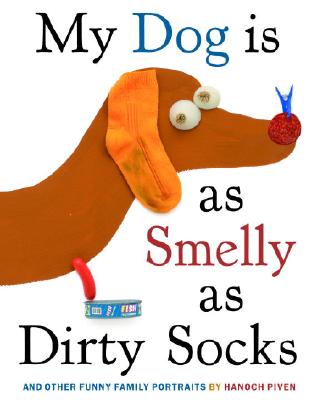 Description
---
How do you draw your smelly dog? Your playful daddy? Your yummy mommy? See how one girl does it in this simple, clever picture book that's comprised of family portraits made out of objects. For example, her baby brother is "so "noisy he's as loud as a whistle, a horn, and even a fire truck that she creates a picture of him with whistles for eyes, a horn mouth, and holding a fire truck. After the girl has described everyone in her family (including herself, in great detail), she asks, "What does "your "special family look like?" encouraging readers to create their own portraits. With a list of objects at the end of the book to use as a guide, this is the ideal choice for budding artists everywhere.
Here's a wonderful exploration of simile and metaphor for young readers. And don't miss the companion book "My Best Friend is as Sharp as a Pencil"
About the Author
---
Hanoch Piven is the illustrator of several children's books, including "My Best Friend is as Sharp as a Pencil" and "What Presidents Are Made Of," a "Child Magazine "Best Book and an ABA Kids' Pick of the List. He also illustrates for a number of publications, including "Rolling Stone "and "The New Yorker." He lives in Barcelona, Spain.