No Way to Treat a First Lady (Paperback)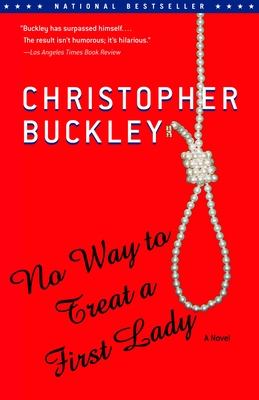 $16.00
Usually Ships in 1-5 Days
Description
---
A New York Times Notable Book of the Year

Elizabeth Tyler MacMann, the ambitious First Lady of the United States (and known in the tabloids as Lady Bethmac ), is on trial for the death of her philandering husband, and the only man who can save her is the boyfriend she jilted in law school now the most shameless defense attorney in America. Published to rave reviews, No Way to Treat a First Lady is a hilariously warped love story for our time set in the funniest place in America: Washington, D.C.
About the Author
---
Christopher Buckley is the author of eight previous books, including Thank You For Smoking and Little Green Men. That would make this his, what, ninth? He is editor of Forbes FYI magazine and has contributed over 50 Shouts and Murmurs to The New Yorker. He is also credited with bringing about lasting peace in the Middle East and with alerting NASA to significant problems with its Space Shuttle Automatic Re-entry Guidance System (SSAEGS), thereby sparing several square blocks of Raleigh, North Carolina a very unpleasant surprise. He is a regular contributor to Martha Stewart s Inside Trading magazine and informally advises the government of Argentina on debt re-scheduling. He is the 2002 recipient of the Washington Irving Medal for Literary Excellence, but has yet actually to receive it. He lives in Washington, D.C. with his saintly and long-suffering wife Lucy, two children and faithful Hound Jake. From the Hardcover edition."
Praise For…
---
"Unspeakably and endlessly funny. Unless you're a former president…Wicked humorist Buckley shoots fish in a barrel and makes them dance."
-Kirkus (starred)

"The lurid sexual excesses of the late 90's provide plenty of comic fodder for Buckley's latest satire, which doubles as a legal thriller…The political humor is first-rate as usual, as Buckley has plenty of fun with the slimy, silly mess that is Beltway politics. This is one of his better efforts, which should keep Buckley on the "A' list of American satirists."
-Publishers Weekly (lead review)

"Buckley has surpassed himself....The result isn't humorous; it's hilarious."
—Los Angeles Times Book Review

"An exceedingly funny account of a White House scandal that
doesn't bear the slightest resemblance—nudge nudge, wink wink—
to one that took place there only five short years ago."
—Jonathan Yardley, The Washington Post


"This clever, gleeful satire . . . sets a high comic standard."
—Janet Maslin, The New York Times

"Christopher Buckley must have had a great time creating this satire that is part legal thriller, part love story and entirely over-the-top funny. But those who choose to pick it up can look forward to smart writing, memorable lines and more than a few belly laughs. [No Way to Treat a First Lady] doesn't have to be a guilty pleasure; it can be enjoyed and shared because it is simply smart and light and very funny."
—The Denver Post