Honky (Paperback)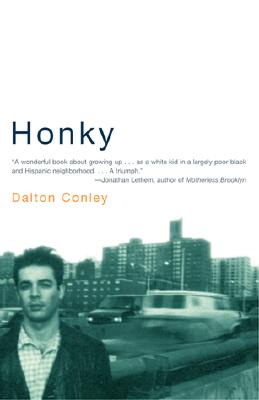 $16.00
Usually Ships in 1-5 Days
Description
---
As recalled in Honky, Dalton Conley's childhood has all of the classic elements of growing up in America. But the fact that he was one of the few white boys in a mostly black and Puerto Rican neighborhood on Manhattan's Lower East Side makes Dalton's childhood unique.
At the age of three, he couldn't understand why the infant daughter of the black separatists next door couldn't be his sister, so he kidnapped her. By the time he was a teenager, he realized that not even a parent's devotion could protect his best friend from a stray bullet. Years after the privilege of being white and middle class allowed Conley to leave the projects, his entertaining memoir allows us to see how race and class impact us all. Perfectly pitched and daringly original, Honky is that rare book that entertains even as it informs.
About the Author
---
Dalton Conley is a professor of sociology at Princeton University. In 2005, Conley became the first sociologist to win the prestigious National Science Foundation's Alan T. Waterman Award, which honors an outstanding young U.S. scientist or engineer. He writes for the New York Times, the Los Angeles Times, The Nation, Slate, and Forbes. He is the author of Honky (2001) and The Pecking Order: A Bold New Look at How Family and Society Determine Who We Become (2004). His other books include Being Black, Living in the Red: Race, Wealth, and Social Policy in America (1999), The Starting Gate: Birth Weight and Life Chances (2003), and Elsewhere, U.S.A. (2009).
Praise For…
---
"With precision and poetry, this...absorbing volume [gives] readers a rare opportunity for insight into the complexities of race in America."–San Francisco Chronicle

"Lucid, readable and almost entirely devoid of jargon.... A must read for thinking adults."–The Washington Post

"A wonderful book.... A triumph."–Jonathan Lethem, author of Motherless Brooklyn