Sputnik Sweetheart (Paperback)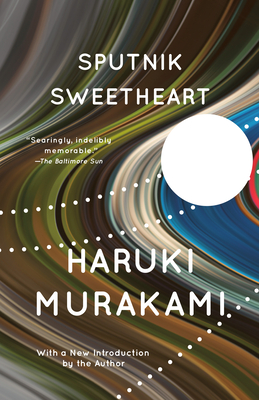 Description
---
Haruki Murakami, the internationally bestselling author of Norwegian Wood and The Wind-Up Bird Chronicle, plunges us into an urbane Japan of jazz bars, coffee shops, Jack Kerouac, and the Beatles to tell this story of a tangled triangle of uniquely unrequited loves.
A college student, identified only as K, falls in love with his classmate, Sumire. But devotion to an untidy writerly life precludes her from any personal commitments until she meets Miu, an older and much more sophisticated businesswoman. When Sumire disappears from an island off the coast of Greece, K is solicited to join the search party and finds himself drawn back into her world and beset by ominous, haunting visions. A love story combined with a detective story, Sputnik Sweetheart ultimately lingers in the mind as a profound meditation on human longing.
About the Author
---
Born in Kyoto, Japan, in 1949, Haruki Murakami grew up in Kobe and now lives near Tokyo. The most recent of his many honors is the Yomiuri Literary Prize, whose previous recipients include Yukio Mishima, Kenzaburo Oe, and Kobo Abe. His work has been translated into moer than fifty languages.
Praise For…
---
"Grabs you from its opening lines. . . . [Murakami's] never written anything more openly emotional." –Los Angeles Magazine

"Murakami is a genius." –Chicago Tribune

"Murakami has an unmatched gift for turning psychological metaphors into uncanny narratives." –The New York Times Book Review

"An agonizing, sweet story about the power and the pain of love. . . . Immensely deepened by perfect little images that leave much to be filled in by the reader's heart or eye." –The Baltimore Sun

"[Murakami belongs] in the topmost rank of writers of international stature." –Newsday

"Murakami's true achievement lies in the humor and vision he brings to even the most despairing moments." –The New Yorker

"Perhaps better than any contemporary writer, [Murakami] captures and lays bare the raw human emotion of longing." –BookPage

"Murakami . . . has a deep interest in the alienation of self, which lifts [Sputnik Sweetheart] into both fantasy and philosophy." –San Francisco Chronicle

"Not just a great Japanese writer but a great writer, period." –Los Angeles Times Book Review