The Bridegroom: Stories (Paperback)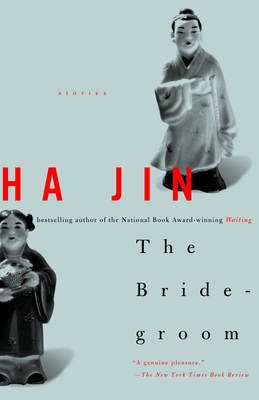 Description
---
From the remarkable Ha Jin, winner of the National Book Award for his celebrated novel Waiting, a collection of comical and deeply moving tales of contemporary China that are as warm and human as they are surprising, disturbing, and delightful.
In the title story, the head of security at a factory is shocked, first when the hansomest worker on the floor proposes marriage to his homely adopted daughter, and again when his new son-in-law is arrested for the -crime- of homosexuality. In -After Cowboy Chicken Came to Town, - the workers at an American-style fast food franchise receive a hilarious crash course in marketing, deep frying, and that frustrating capitalist dictum, -the customer is always right.-Ha Jin has triumphed again with his unforgettable storytelling in The Bridegroom.
About the Author
---
Ha Jin left his native China in 1985 to attend Brandeis University. He is the author of the internationally bestselling novel Waiting, which won the PEN/Faulkner Award and the National Book Award, and War Trash, which won the PEN/Faulkner Award for Fiction, and was a Finalist for the Pulitzer Prize and the Kiriyama Pacific Rim Book Prize; the story collections The Bridegroom, which won the Asian American Literary Award, Under the Red Flag, which won the Flannery O'Connor Award for Short Fiction, and Ocean of Words, which won the PEN/Hemingway Award; the novels The Crazed and In the Pond; and three books of poetry. His latest novel, A Free Life is his first novel set in the United States. He lives in the Boston area and is a professor of English at Boston University.War Trash, The Crazed, The Bridegroom, Waiting, In the Pond, and Ocean of Words are available in paperback from Vintage Books.
Praise For…
---
"A genuine pleasure."
--The New York Times Book Review

"Finely wrought... Every story here is cut like a stone."
--Chicago Sun-Times

"The Bridegroom... showcases [Ha Jin's] mastery of craft, the consummate restraint and nearly telegraphic objectivity with which he paints difficult truths."
--The Boston Globe