Japanese Tales (Paperback)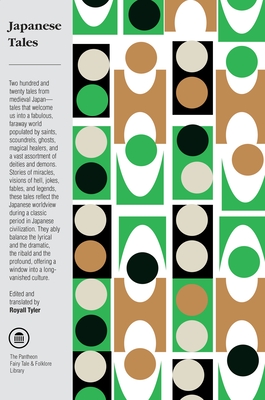 $19.95
Usually Ships in 1-5 Days
Description
---
Two hundred and twenty dazzling tales from medieval Japan-- tales that welcome us into a fabulous, faraway world populated by saints, scoundrels, ghosts, magical healers, and a vast assortment of deities and demons. Stories of miracles, visions of hell, jokes, fables, and legends, these tales reflect the Japanese worldview during a classic period in Japanese civilization. They ably balance the lyrical and the dramatic, the ribald and the profound, offering a window into a long vanished culture.
Part of the Pantheon Fairy Tale and Folklore Library.
About the Author
---
Royall Tyler has taught Japanese language and culture at many universities, including Harvard, the Australian National University, the University of Oslo, and the University of Wisconsin-Madison. He lives in Australia.
Praise For…
---
"Few readers who start the book will be able to resist going through to the end."
-- New York Times

"Fresh, imaginative, and uniquely organized...told in a style clear, homey, and unpretentious, [they] yield great pleasure."
-- Kirkus Reviews

"Enchanting....The stories are variously witty, allegorical, mystical, gross, funny, and enigmatic....Tyler provides a helpful introduction, and his poised translations are something of a masterpiece."
-- Publishers Weekly

"Translated with exceptional skill, this is a perfect example of scholarship concealing scholarship. Tyler has made these tales read gracefully and effortlessly. He writes in a lively and colloquial style that effectively captures the spirit of the originals without being jarringly modern. This is an important book."
-- Donald Keene, Shincho Professor of Japanese, Columbia University

"Royall Tyler's translations are nothing short of superb -- crisp, restrained, ably balancing the ribald and the profound. The results make available masterpieces from five centuries of Japanese literature. This book is a stellar addition to Pantheon's "outstanding folklore series."
--Booklist