The Crazed (Paperback)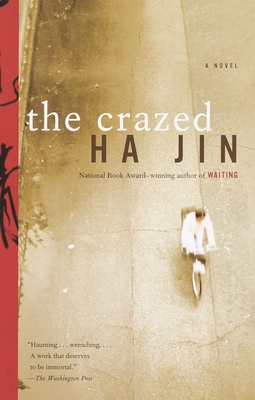 $16.00
Usually Ships in 1-5 Days
Description
---
A New York Times Notable Book
A Washington Post, Los Angeles times, and San Jose Mercury News Best Book of the Year
Ha Jin's seismically powerful new novel is at once an unblinking look into the bell jar of communist Chinese society and a portrait of the eternal compromises and deceptions of the human state. When the venerable professor Yang, a teacher of literature at a provincial university, has a stroke, his student Jian Wan is assigned to care for him. Since the dutiful Jian plans to marry his mentor's beautiful, icy daughter, the job requires delicacy. Just how much delicacy becomes clear when Yang begins to rave.
Are these just the outpourings of a broken mind, or is Yang speaking the truth--about his family, his colleagues, and his life's work? And will bearing witness to the truth end up breaking poor Jian's heart? Combining warmth and intimacy with an unsparing social vision, The Crazed is Ha Jin's most enthralling book to date.
About the Author
---
Ha Jin left his native China in 1985 to attend Brandeis University. He is the author of the internationally bestselling novel Waiting, which won the PEN/Faulkner Award and the National Book Award, and War Trash, which won the PEN/Faulkner Award for Fiction, and was a Finalist for the Pulitzer Prize and the Kiriyama Pacific Rim Book Prize; the story collections The Bridegroom, which won the Asian American Literary Award, Under the Red Flag, which won the Flannery O'Connor Award for Short Fiction, and Ocean of Words, which won the PEN/Hemingway Award; the novels The Crazed and In the Pond; and three books of poetry. His latest novel, A Free Life is his first novel set in the United States. He lives in the Boston area and is a professor of English at Boston University. War Trash, The Crazed, The Bridegroom, Waiting, In the Pond, and Ocean of Words are available in paperback from Vintage Books.
Praise For…
---
"Ha Jin takes the lead of ordinary life and turns it into gold. . . . Haunting . . . wrenching. . . . A work that deserves to be immortal." —The Washington Post

"Ha Jin's empathy for his characters is matched by his unwillingness to give them a break. Reading him is almost like falling in love: you experience anxiety, profound self-consciousness, and an uncomfortable sensitivity to the world—and somehow it's a pleasure. . . . Like the best realist writers, Ha Jin sneaks emotional power into the plainest declarative sentences." —The New Yorker

"A work of enormous intelligence. Piercing, critical, but leavened by Jin's understated prose, The Crazed is a substantial addition to the corpus of a great author." —San Francisco Chronicle

"A work of literature, in the highest tradition of Anton Chekhov or Yasunari Kawabata, suffused with an aching purity." —Houston Chronicle