Train (Paperback)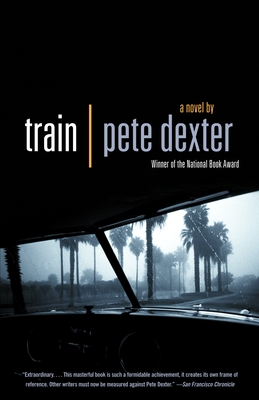 Description
---
Train is a 18-year-old black caddy at an exclusive L.A. country club. He is a golf prodigy, but the year is 1953 and there is no such thing as a black golf prodigy. Nevertheless, Train draws the interest of Miller Packard, a gambler whose smiling, distracted air earned him the nickname the Mile Away Man. Packard's easy manner hides a proclivity for violence, and he remains an enigma to Train even months later when they are winning high stakes matches against hustlers throughout the country. Packard is also drawn to Norah Still, a beautiful woman scared in a hideous crime, a woman who finds Packard's tendency toward violence both alluring and frightening. In the ensuing triangular relationship kindness is never far from cruelty.
In Train, National Book Award-winning Pete Dexter creates a startling, irresistibly readable book that crackles with suspense and the live-wire voices of its characters.
About the Author
---
Pete Dexter is the author of the National Book Award winner Paris Trout and of God's Pocket, Deadwood, Brotherly Love, and The Paperboy. He was born in Michigan and raised in Georgia, Illinois, and eastern South Dakota. He lives on Puget Sound, Washington.
Praise For…
---
"Extraordinary.... This masterful book is such a formidable achievement, it creates its own frame of reference. Other writers must now be measured against Pete Dexter." — San Francisco Chronicle

"Dexter is a superb writer. . . . The narrative flows and weaves, dips and dances like a boxer in a championship bout." — The Oregonian

"Spectacular, explosive...Mythic, comic and tragic, Train yields a treasure trove of harsh human wisdom." — St. Louis Post-Dispatch
"With an exhilarating crime novel that mixes race, sex, murder–and yes, golf–Pete Dexter hits a hole in one." --Newsweek

"A beautiful, stomach-churning novel, full of graphic descriptions and brutal plot turns. . . . Dexter's dark, hypnotic writing is in top form." — The Plain Dealer

"Riveting. . . . Brilliantly observed and psychologically incisive. . . . Confirms Dexter's place as the most lapidary American prose stylist since Hemingway." --The Philadelphia Inquirer

"Chilling. . . . Haunting. . . . Dexter's writing is a living thing." --USA Today

"Dexter gets violence on paper with a harsh precision, and the pages turn with a potboiler's fleetness. When the final boom rumbles, readers are likely to be up well past their bedtimes." --The New York Times Book Review

"Disturbingly magnificent. . . . As brutal as anything James Ellroy has rolled out. . . . Dexter crawls inside his characters to peel back the darkest ids." --Los Angeles Times Book Review

"Memorable. . . . Stylish and sinewy. . . . Dexter is an irresistibly fluid and engaging writer." --Newsday

"The strength of the novel lies far beyond its noirish setting or graphic plot twists. It is rather in Dexter's assured and direct handling of the ever-tangled subject of how ordinary people try to ford the nation's racial divide in pursuit of, or in flight from, deeper human truths." --Washington Post Book World

"Utterly gripping. . . . A superbly written book. . . . Illuminated by vivid flashes of humor and humanity. . . . Cunningly structured for maximum impact." --The Economist

"Taut, tight and unrelenting, this is Dexter's best novel since his National Book Award-winning Paris Trout. . . . . It's mean, tough, tender, and emotionally, and conceptually, highly charged." --Houston Chronicle

"Visceral, like a punch to the gut. . . . A gutty, gritty gem of a novel. . . . Dexter masterfully builds the suspense and each unwholesome character bounces off the other as the novel wends toward denouement. . . . This is Dexter in top noir form, as only he can pull it off." --The Denver Post

"Exquisite, painful. . . . He's the Faulkner of our time; just when you've passed judgment on a character, Dexter pulls the rug out from under you. . . . . You think you understand fear and race? Read Train." --Los Angeles Times

"Brilliant. . . . A strange and riveting book." --San Jose Mercury News

"Engrossing. . . . It's easy to get lost in Dexter's beautifully constructed sentences. Their attention to detail, their careful rhythms and brutal observations make Train satisfying to read. . . . It revels in its hardboiled dialogue and Chandleresque cadences, its sudden violence and cheeky humor." --Fort Worth Star-Telegram

"Extreme noir. . . . Dexter's prose is muscular, dead-pan, hard-boiled." --Seattle Post-Intelligencer

"Don't expect some triumph-of-the-underdog sports story. . . . Dexter's vision of golf as a stark, brutal confrontation-with-self is unlike anything depicted on a sports page. . . . In his lean, powerful style, [he] digs into the complex dangers of race and love. And anyone who expects Dexter to keep it simple might as well tell the cat not to eat the birds." --The Miami Herald

"Takes the reader on a mesmerizing ride aboard a fast-moving Train." --The Orlando Sentinel

"Dexter's novels . . . tend to inhabit thriller country, but their dark lyricism and an inspired disregard for traditional plot carry them beyond this generic territory. . . . Dexter's skill resides in keeping an atmosphere of menace close to the surface at all times, so that violent collision of the worlds surrounding Packard seems inevitable." --The New Yorker

"Compelling. . . . Raw. . . . Train is the work of an American master at the top of his game." --Elle (Reader's Prize)

"Powerful. . . . In Packard, Dexter has created a flawed tough-guy hero, 'the kind of man who would hurt you'--yet one who transcends the hard-boiled-thriller model with his uncommon sensitivity to others' emotions and a self-awareness that his romantic idealism will probably lead to his own ruin. Grade: A." --Entertainment Weekly

"Dexter is a skilled writer who knows how to set the scene." --Pittsburg Post-Gazette

"Its period [are] details searing, its shifts of mood as remorseless as the Santa Ana wind." --Daily News

"Quick-witted, muscular and to the point. . . . The characters are tough, the words tougher." --The Atlanta Journal-Constitution

"Superb. . . . Taut. . . . Rich in imagery." --People

"Intense and moving. . . . Dexter shows the light in the human soul mostly by contrasting it with the dark. . . . [Train] contains plenty of scenes of brutality and violence, but also passages of beauty and tenderness and clarity." --Philadelphia Magazine

"Pete Dexter fans, rejoice: The wait is over. . . . He writes with an accuracy and power that leave you wishing the book were longer." --The Dallas Morning News