The Working Poor: Invisible in America (Paperback)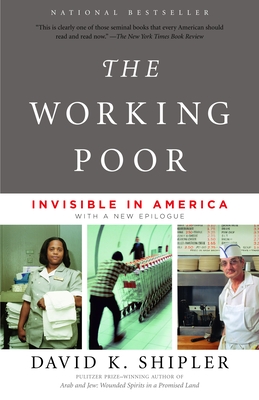 $16.95
Usually Ships in 1-5 Days
Description
---
From the author of the Pulitzer Prize winning Arab and Jew, an intimate portrait unfoldsof working American families struggling against insurmountable odds to escape poverty.
As David K. Shipler makes clear in this powerful, humane study, the invisible poor are engaged in the activity most respected in American ideology hard, honest work. But their version of the American Dream is a nightmare: low-paying, dead-end jobs; the profound failure of government to improve upon decaying housing, health care, and education; the failure of families to break the patterns of child abuse and substance abuse. Shipler exposes the interlocking problems by taking us into the sorrowful, infuriating, courageous lives of the poor white and black, Asian and Latino, citizens and immigrants. We encounter them every day, for they do jobs essential to the American economy.
This impassioned book not only dissects the problems, but makes pointed, informed recommendations for change. It is a book that stands to make a difference.
About the Author
---
DAVID K. SHIPLERreported forThe New York Timesfrom 1966 to 1988 in New York, Saigon, Moscow, Jerusalem, and Washington, D.C. He is the author of six previous books, including the best sellersRussiaandThe Working Poor, as well asArab and Jew, which won the Pulitzer Prize. He has been a guest scholar at the Brookings Institution and a senior associate at the Carnegie Endowment for International Peace, and has taught at Princeton, American University, and Dartmouth. He writes online atThe Shipler Report."
Praise For…
---
"This is clearly one of those seminal books that every American should read and read now." --The New York Times Book Review

" An essential book. . . . It should be required reading not just for every member of Congress, but for every eligible voter." --The Washington Post Book World

"Sensitive, sometimes heart-rending . . . . A vivid portrait of the struggle of the working poor to acquire steady, decently paid employment." –Commentary

"Insightful and moving. . . . Shipler writes with enormous grace [and] he captures the immense frustration endured by the working poor as few others have." --The Nation

"Welcome and important. . . . Shipler manages to see all aspects of poverty--psychological, personal, societal--and examine how they're related. . . . There is much here to ponder for conservatives and liberals alike." —The Seattle Times