The Writer and the World: Essays (Paperback)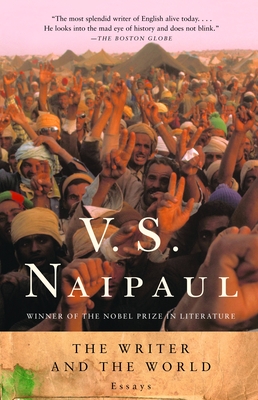 Description
---
Spanning four decades and four continents, this magisterial volume brings together the essential shorter works of reflection and reportage by our most sensitive, literate, and undeceivable observer of the post-colonial world. In its pages V. S. Naipaul trains his relentless moral intelligence on societies from India to the United States and sees how each deals with the challenges of modernity and the seductions of both the real and mythical past.
Whether he is writing about a string of racial murders in Trinidad; the mad, corrupt reign of Mobutu in Zaire; Argentina under the generals; or Dallas during the 1984 Republican Convention, Naipaul combines intellectual playfulness with sorrow, indignation, and analysis so far-reaching that it approaches prophecy. The Writer and the World reminds us that he is in a class by himself.
About the Author
---
V. S. Naipaul was born in Trinidad in 1932. He went to England on a scholarship in 1950. After four years at Oxford he began to write, and since then he has followed no other profession. He is the author of more than twenty books of fiction and nonfiction and the recipient of numerous honors, including the Nobel Prize in 2001, the Booker Prize in 1971, and a knighthood for services to literature in 1990. He lives in Wiltshire, England.
Praise For…
---
"The most splendid writer of English alive today. . . . He looks into the mad eye of history and does not blink." —The Boston Globe

"It is altogether tonic to have a writer such as V. S. Naipaul in our midst. . . . This volume is as good a place as any to discover why he is a figure of such consequence." —Daphne Merkin, The New York Times Book Review

"Naipaul brings to the [nonfiction] genre an extraordinary capacity for making art out of lucid thought. . . . [His is] a way of thinking about the world that will compel our attention throughout his working life and well beyond. . . . I can no longer imagine the world without Naipaul's writing." —Vivian Gornick, Los Angeles Times Book Review

"Perceptive . . . inspired, provocative. . . . Naipaul has succeeded in richly articulating a writer's engagement with and exploration of the world." –The San Diego Union-Tribune

"A profound, bracing meditation on the legacy of the colonial world. . . . His writing [offers] the world through eyes possessed of a noble clarity." –Pittsburgh Post-Gazette

"A welcome and worthy volume. . . . Only Naipaul can take a dim view of so much and so many, yet keep that dimness fantastically illuminated. . . . His prose is often simultaneously a blunt instrument and a surgical one, equally freighted with broad dismissive statements and blood-lettingly dissective insight." –San Francisco Chronicle

"The quality and credibility of Naipaul's words become apparent when you find yourself savoring [his] descriptions. . . . Once finished with the collection, the reader will never see the world through the same eyes again." –Fort Worth Star-Telegram

"Witheringly astute. . . . One of our finest living writers. . . . Naipaul's is a crystalline, no-nonsense style. . . . He gives you the real world." –The Weekly Standard

"Naipaul is essential reading today for anyone interested in a dissection of the universal tension that exists now between the East and the West. . . . His scholarship is exhaustive, his intuition trustworthy, and his scrutiny is unwavering." –The Oregonian

"Wonderfully insightful. . . . Few writers are as qualified for the present moment, and few writers are as needed." –The Orlando Sentinel

"Naipaul forces the traveler to think. . . . [He is] ever curious, ever exact in his observations." –Austin American-Statesman

"Splendid. . . . Elegant and understated. . . . Naipaul is insatiable in his pursuit of facts and brilliant in his analysis of them." –The Sunday Star-Ledger

"Naipaul's essays . . . depict a chaotic world, torn by ethnic, religious and cultural antagonisms, but they also discover the humanity that unites us, and thereby provide the kind of reassurance that perhaps only literature affords." –San Jose Mercury News