Half a Life (Paperback)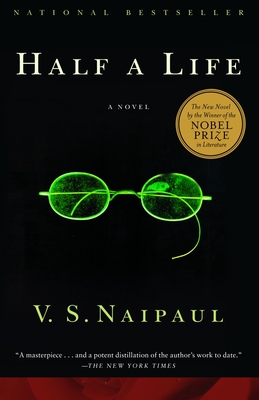 $15.00
Usually Ships in 1-5 Days
Description
---
In a narrative that moves with dreamlike swiftness from India to England to Africa, Nobel Laureate V. S. Naipaul has produced his finest novel to date, a bleakly resonant study of the fraudulent bargains that make up an identity.

The son of a Brahmin ascetic and his lower-caste wife, Willie Chandran grows up sensing the hollowness at the core of his father's self-denial and vowing to live more authentically. That search takes him to the immigrant and literary bohemias of 1950s London, to a facile and unsatisfying career as a writer, and at last to a decaying Portugese colony in East Africa, where he finds a happiness he will then be compelled to betray. Brilliantly orchestrated, at once elegiac and devastating in its portraits of colonial grandeur and pretension, Half a Life represents the pinnacle of Naipaul's career.
About the Author
---
V. S. Naipaul was born in Trinidad in 1932. He went to England on a scholarship in 1950. After four years at Oxford he began to write, and since then he has followed no other profession. He is the author of more than twenty books of fiction and nonfiction and the recipient of numerous honors, including the Nobel Prize in 2001, the Booker Prize in 1971, and a knighthood for services to literature in 1990. He lives in Wiltshire, England.
Praise For…
---
"A masterpiece of implicitness . . . explicitly concerned with drawing out the metaphysical-private while keeping it embedded in society and history . . . The ironies in Half a Life wind like a fugue into infinity . . . Identity is an enigma . . . To make that sentiment breathe in the mouth of a living character, and then rise from the page with silent laughter, is a beautiful completion: the mark of a genius and a cause of unending delight." — Lee Siegel, Los Angeles Times Book Review

"As disquieting as anything [Naipaul] has ever written . . . His terse prose works, as always, to imply a world in a phrase." — Michael Gorra, New York Times Book Review

"A troubling novel, genuinely moving . . . disturbing in all the right ways . . . the scenes of social encounters are brilliant, set against the twilight of colonial rule . . . A stunning book, three continents, three journeys, the evergreen themes of caste and class, of growing up." — Betsy Willeford, Miami Herald

"Naipaul's style is so frank it seems intimate, and the awful characters are studied and well crafted. Behind the matter-of-fact style is a cuttingly ironic view of human relations . . . When Naipaul talks, we listen." — Diane Mehta, The Atlantic Monthly

"Naipaul is a master of English prose, and the prose of Half a Life is as clean and cold as a knife." — J. M. Coetzee, New York Review of Books

"'Half a Life,' the fierce new novel by V. S. Naipaul, the new Nobel laureate, is one of those rare books that stands as both a small masterpiece in its own right and as a potent distillation of the author's work to date . . . It deftly combines Dickensian delight in character with political and social observation . . . while recounting with uncommon elegance and acerbity the coming of age of its hero, Willie Chandran ... Mr. Naipaul endows his story with the heightened power of a fable. With 'Half a Life' he has given us a powerful tale of one man's journey from childhood to middle age while at the same time creating a resonant parable about the convulsions of modern history, both the dying of old inequities and the rise of new illusions, and their spiritual legacy of homelessness and dislocation." — Michiko Kakutani, New York Times

"As sly and funny as anything Naipaul has written . . . He is still mining his richest obsessions . . . The classic that his new novel calls to mind is Voltaire's Candide. There is the same mocking simplicity of style, the same heartless elegance of design . . . Nobody who enjoys seeing English beautifully controlled should miss this novel." — John Carey, Sunday Times

"A surprise and a pleasure . . . here, at last, is a work of pure imagination, though the themes are characteristic in their complex peculiarity . . . Naipaul has produced the most complex and demanding body of work of any post-war British writer . . . In sentences of great precision and balance, Naipaul reanimates the dilemmas of the late and post-colonial experience . . . He reminds us again of what a fine and unusual writer he is . . . In the canon of contemporary British writing he is without peer: a cold, clear-eyed prophet, a scourge of sentimentality, irrationalism and lazy left-liberal prejudices. Read him." — Jason Cowley, The Observer Review

"Naipaul writes a prose as clean as a stripped wand, but however plain the language, the ideas it delivers are not. . . . He is still peerless as a deviser of the shocking icon. He builds a scene of metaphysical loss as compelling as any Renaissance canvas of the expulsion from paradise." — Paula Burnett, The Independent

"No writer has written more tellingly about the vocation of writing than V. S. Naipaul. . . . this new novel, Half a Life, shows us that Naipaul's absorption in how he came to be a writer is still fresh. . . . The pages about London glow, and bear comparison with anything that Naipaul has done . . . Almost casually, but beautifully, achieved . . . Captures in miniature the exceptional trajectory of Naipaul's oeuvre-the figure of the father, the life of the writer, and, finally, an enquiry into the origins of the colonial landscape itself." — Amit Chaudhuri, Times Literary Supplement

"The foremost literary interpreter of the third world for a British and American readership." — Maya Jaggi, The Guardian

"Genuinely powerful in a deeply politically incorrect way." — Jonathan Bate, Daily Telegraph

"Fresh . . . A novel with a purpose . . . Through the evocation of three continents and several decades, without calling on public events and purely through the narrative of a life, V. S. Naipaul gives us a moral tale which captures the evanescence of our times." — Farrukh Dhondy, Literary Review

"Read it for its beautifully controlled English." — The Sunday Times

"One of the world's greatest living novelists . . . A writer whose world-view has been characterised by rigorous inquiry . . . A fascinating study . . . Naipaul has thankfully lost none of his grace, style, or storytelling power in this beautiful novel." — Stuart Price, Independent

"Like a series of musical variations, the novel that follows [the first lines] never departs from them in essence . . . This is brilliant, affecting stuff: the novel's melancholy drama is played out on the furthest margins of fiction, where things are recollected rather than observed." — Rachel Cusk, Evening Standard

"Naipaul's first novel in six years is another installment in the extended fictional autobiography. . . . [This novel] may tell us more about the essential Naipaul than he has ever heretofore revealed. . . . The work of a master who has rarely, if ever, written better." — Kirkus Reviews (starred review)