The Angel of Galilea (Paperback)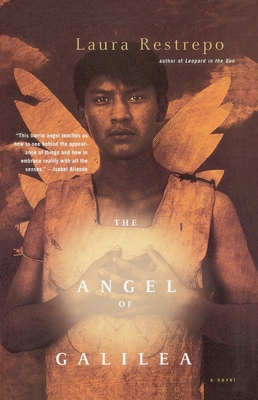 $15.00
Usually Ships in 1-5 Days
Description
---
"This barrio angel teaches us how to see behind the appearance of things and how to embrace reality with all the senses." --Isabel Allende
"Laura Restrepo breathes life into a singular amalgam of journalistic investigation and literary creation. Her fascination with popular culture and the play of her impeccable humor, of that biting but at the same time tender irony . . . infuses them with unmistakable reading pleasures." --Gabriel Garcia Marquez
Winner of Mexico's Sor Juana Ines de la Cruz Prize, and France's Prix France Culture, The Angel of Galilea introduces a refreshing new voice in Latin American literature to the English speaking audience.
Mona is a jaded reporter for a Colombian tabloid sent on assignment to investigate an angel sighting in one of Bogota's most devastated barrios, where she encounters a community torn apart by a passionate conflict over a beautiful man who walks the fine line between sanity and sainthood. For the people of Galilea, this mysterious and sensual "angel without a name" represents their hope amidst desperate circumstances; for Mona, he awakens her desire to love and gives her a reason to believe. When the barrio's priest leads a revolt against the fallen angel, Mona risks everything to protect him from the gang that threatens to destroy him.
"Restrepo is a writer to treasure." --Alastair Reid
"Sharply resonant." --"The New York Times Book Review"
"Surprising, wonderful, and, for me, deeply moving."
--Alvaro Mutis.
About the Author
---
Laura Restrepo has been very active in politics and journalism throughout Latin America and has lived in Colombia, Argentina, Mexico, and Spain. She was professor of literature at the National University of Colombia as well as political editor of the weekly magazine Semana. She is the author of several novels, including El Leopardo al Sol (Leopard in the Sun, forthcoming from Crown). She currently lives in Bogota, Colombia. "From the Hardcover edition."