Old Man Goya (Paperback)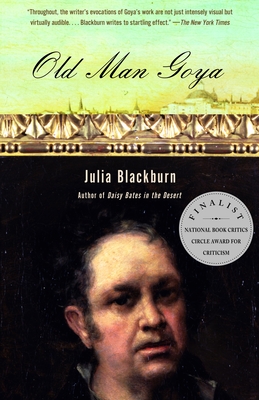 Description
---
In 1792, when he was forty-seven, the Spanish painter Francisco de Goya contracted an illness that left him stone deaf. Yet he continued to interact with the world and to create, spending the next thirty-five years in a world emptied of sound but bursting with images of pageantry, cruelty, and pathos.
In this brilliant, idiosyncratic book a kaleidoscope of biography, memoir, history, and meditation Julia Blackburn vividly imagines the artist's world during this time. She recreates the artist's friendships and love affairs and breathes life into the subjects of his paintings: an ethereally lovely duchess; the spoiled grotesques of the Bourbon court; the atrocities of the Napoleonic wars. Old Man Goya is a rare work of empathy and imagination, a stunning portrait of the mind and life of a great artist.
About the Author
---
Julia Blackburn is the author of three books of nonfiction, Charles Waterton, The Emperor's Last Island, and Daisy Bates in the Desert, and of two novels, The Book of Color and The Leper's Companions, both of which were shortlisted for the Orange Prize. She lives in England.
Praise For…
---
"Extraordinary . . . Throughout, the writer's evocations of Goya's work are not just intensely visual but virtually audible . . . Blackburn writes to startling effect." —The New York Times

"[Blackburn's] real talent is in conjuring up lives . . . You have the uncanny sensation that you have met Goya, felt his honest horny hands, watched him work." —The Economist

"[Blackburn's] rare imagination and profound intelligence . . . carry her into the mind and the work of Francisco de Goya . . . Each image, exquisite in its plainness, draws us first into the landscape, then into the past, a process Blackburn repeats until we are mesmerized." —The Boston Globe

"[A] singular, empathetic homage….Blackburn's attempt to see with Goya's eyes…is most successful and moving. . . .She writes like a painter of still lives." —The Observer (London)

"Blackburn's prose is elegant and precise, illuminated by intelligence, curiosity, and a refined visual sense . . . [She] beautifully conveys the changed reality of the newly deaf painter." —Literary Review