Cracking the DAT (Paperback)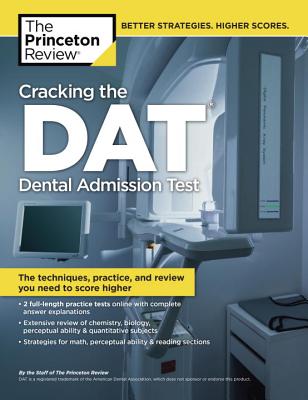 Description
---
If you need to know it, it's in this book.
Winning admission to dental school isn't easy, and scoring well on the DAT (Dental Admission Exam) is a critical part of your profile as a competitive applicant. The Princeton Review's Cracking the DAT contains everything you need to prepare for this important test, including:
- Access to 2 full-length practice DAT exams
- Extensive reviews of General Chemistry, Organic Chemistry, Biology, Perceptual Ability, Reading Comprehension, and the Quantitative subjects
- A full-color, 16-page reference guide with all the most important formulas, diagrams, information, and concepts for each section of the DAT
- Strategies for the Math, Perceptual Ability, and Reading sections
- Drills and detailed explanations to show you exactly what to expect on the DAT
- Answers and explanations for every practice question.
About the Author
---
The experts at The Princeton Review have been helping students, parents, and educators achieve the best results at every stage of the education process since 1981. The Princeton Review has helped millions succeed on standardized tests, and provides expert advice and instruction to help parents, teachers, students, and schools navigate the complexities of school admission. In addition to classroom courses in over 40 states and 20 countries, The Princeton Review also offers online and school-based courses, one-to-one and small-group tutoring as well as online services in both admission counseling and academic homework help.