I Live Here (Hardcover)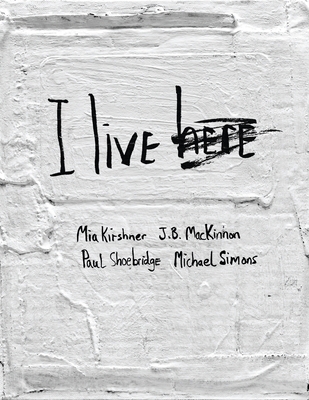 $29.95
Usually Ships in 1-5 Days
Description
---
I Live Here is a paper documentary an intimate journey to humanitarian crises in four corners of the world: war in Chechnya, ethnic cleansing in Burma, globalization in Mexico, and AIDS in Malawi.

THE BOOK

I Live Here
is a visually stunning narrative told through journals, stories, images, and graphic novellas in which the lives of refugees and displaced people become at once personal and global. Bearing witness to stories that are too often overlooked, it is a raw and intimate journey to crises in four corners of the world: war in Chechnya, ethnic cleansing in Burma, globalization in Mexico, and AIDS in Malawi.
The voices
we encounter
are those of displaced women and children, in their own words or in stories told in text and images by noted writers and artists. The stories unfold in an avalanche: An orphan goes to jail for stealing leftovers. A teenage girl falls in love in a city of disappeared women. A child soldier escapes his army only to be saved by the people he was taught to kill.
Mia Kirshner's journals guide us through a unique paper documentary brought vividly to life in collaboration with J.B. MacKinnon, Paul Shoebridge, and Michael Simons, with featured works by Joe Sacco, Ann-Marie MacDonald, Phoebe Gloeckner, Chris Abani, Karen Connelly, Kamel Khelif, and many others.
THE JOURNEYS

Ingushetia
The border of the Russian republic of Ingushetia is not even fifty miles from Grozny, the capital city of Chechnya. Today, some 15,000 Chechen refugees live in Ingushetia. Mia Kirshner and Joe Sacco traveled here together, returning with first-person accounts, video, photographs, and other materials gathered in Nazran and Moscow. The chapter includes journals by Mia Kirshner, the story of a young refugee as told by J.B. MacKinnon, the story of a young piano virtuoso as told by Ann-Marie Macdonald, and a graphic novella of Chechen refugees by Joe Sacco.
Burma
Ethnic cleansing by the Burmese military has displaced an estimated 500,000 to 1 million people; over 100,000 live in refugee camps along the Thailand-Burma border. Burma is also believed to be home to more child soldiers than any other country in the world. Mia Kirshner and Michael Simons took separate trips to the region; this chapter is based on their interviews, photos, and video, as well as writing by sex workers and Karen refugees. It includes journals by Mia Kirshner, as well as work by Chris Abani, Karen Connelly, J.B. Mackinnon, and a graphic novella by Kamel Khelif.
Juarez
Ciudad Juarez is a large industrial border city in Mexico across the Rio Grande from El Paso, Texas. Since 1993, young women, many of them employees of Juarez's more than three hundred maquiladoras, or global trade zone factories, have been disappearing from the streets. Mia Kirshner and Phoebe Gloeckner made independent journeys to this region; this book is informed by the stories and images they brought home. It includes journals, a story of one of the victims by Lauren Kirshner, and a graphic novella by Phoebe Gloeckner.
Malawi
Malawi is one of the world's poorest countries, and has an AIDS rate close to twenty percent. The disease touches every aspect of daily life in the African nation, introducing immense chaos, particularly in the case of orphan children. Mia Kirshner and J.B. MacKinnon made the trip to Malawi and returned with interviews, photographs, writing, and artworks. This book includes journals, a children's story by J.B. MacKinnon with art by Julie Morstad, and the stories and artwork of boys in a local prison.
About the Author
---
THE AUTHORS Mia Kirshner has worked as an actor in film and television; among her credits are Brian De Palma s The Black Dahlia and The L Word. I Live Here is her first book. J.B. MacKinnon is the award-winning author of Dead Man in Paradise and Plenty. Michael Simons and Paul Shoebridge are award-winning creative directors, most notably for Adbusters magazine, who have conceptualized books, magazines, television spots, and major international advocacy campaigns. CONTRIBUTORS Chris Abani is a professor at the University of California, Riverside, whose writing has earned honors including the PEN USA Freedom-to-Write Award. His novels and poetry collections include Song For Night, GraceLand, and Hands Washing Water.Lynn Coady is a fiction writer and essayist; her most recent novels are Mean Boy and Saints of Big Harbour. Karen Comins is currently completing an illustrated journal of her life and natural history fieldwork in southern Africa. Karen Connelly is the author of seven books of bestselling nonfiction, fiction, and poetry, including The Lizard Cage and Dream of a Thousand Lives: A Sojourn in Thailand. Phoebe Gloeckner is an artist and assistant professor at the University of Michigan School of Art and Design. Her works include The Diary of a Teenage Girl and A Child s Life. Kamel Khelif is a French-Algerian writer and artist whose works include The Exiles and Homicide. Lauren Kirshner is the author of Fun and Other Stories of Home, to be published by McClelland & Stewart in spring 2009. Ann-Marie MacDonald is a writer and actor whose novels include the bestselling Fall On Your Knees and The Way the Crow Flies. Julie Morstad divides her time between drawing, illustration, animation, and design. Her recent works include When You Were Small (with Sara O Leary). Joe Sacco is a renowned cartoon journalist whose works include But I Like It, Palestine, and Safe Area Gorazde.Also featuring artwork by Sean Campbell, Cissors, Tara Hach, Edward Kasinje, Lackson Manyawa, Niall McLelland, Tina Medina, Tiffany Monk, Georgie Russell, Seamrippers Craft Collective, Valerie Thai, and Felix Yakobe."
Praise For…
---
"Powerful. . . . A touching, gorgeously produced, and thoughtfully edited compilation of stories from the world's trouble spots. . . . Combines reportage, photography, fiction, and comics to create a group portrait of the lives of refugees and displaced people worldwide." –New York Magazine

"Gut-wrenching–and hauntingly beautiful." –Glamour

"Elaborately designed in its look, knottily layered in its content and far afield from the entertainment world in its subject matter . . . I Live Here is no vanity project." –Los Angeles Times

"Compelling." –Elle

"Gives a voice to the voiceless, vividly and beautifully illustrating the lives of marginalized women and children." –Tribeca Film

"A potent and provocative graphic delivery system for unspeakable real-world horrors. . . . Each section elegantly manages to balance the personal and political aspects of its respective crisis." –The Village Voice

"Intense. . . . Disturbing. . . . Effective. . . . With I Live Here, Kirshner shines an unwavering, informative light on important and troubling non-U.S.-centric issues in a truthful and often disturbing manner. She elevates celebrity philanthropic efforts to an extraordinary new level of sophistication in content and style. . . . One of the finest looking publications ever produced. In toto, the package forms an amazing work of art. An exceptional book of rare quality, I Live Here exceeds all expectations." –The San Antonio Current

"Kirshner has taken a more deliberate, less paparazzi-infested approach to global suffering in I Live Here." –Seattle Weekly

"Stunning, heartbreaking, riveting. True." –January Magazine

"A harrowing, moving and memorable book. . . . Using first-person accounts, original art and prose, [I Live Here] is uniquely evocative in its presentation of the life-and-death struggles of marginalized people." –Toronto Star

"Intimate. . . . Moving." –mtvU

"Beautiful. . . . Heartbreaking. . . . Extremely personal and intimate. . . . The stories, woven throughout the beautiful illustrations and the sometimes-disturbing photos, are a wake-up call to the atrocities that are occurring daily." –Curve Magazine   

"A remarkable assemblage of refugee stories. . . . [This] composite of four notebooks designed to be taught, read, spoken of and remembered, not only chronicles the lives she encountered, but it gives them each a voice. . . . Mia's not in any way preachy, she's just determined to do whatever it takes to make this world a better place to live in for those whose lives are lived in the margins." –The SunPost (Miami)

"A harrowing tribute to the overlooked victims of war. . . . Innovative, moving." –The Globe and Mail (Toronto)

"A vibrant, passionate look at lives affected by poverty, violence, and political repression. . . . [A] brave attempt to break beyond standard documentary approaches." –Planet Magazine

"Creatively compiled. . . . Beautifully constructed. . . . We can't all make the remarkable journeys Kirshner has, but with this book, she serves as our unexpected ambassador." –Modern Tonic

"I Live Here brings to life those who blend into the crowds we see on the news every day. . . . [It] makes a strong attempt to bring to life the world's oppressed in a way the news media cannot." –The Georgia Straight (Vancouver)

"I Live Here is not just another Hollywood starlet story." –The Kansas City Star

"Kirshner–with the help of Mackinnon, Shoebridge, and Simons–does an exceptional job putting a human face to devastating problems to which people of developed nations have become desensitized. I Live Here is both heartwrenching and beautiful, inspiring readers (without ever preaching) to reach out to those in need."–BookLoons.com