On Late Style: Music and Literature Against the Grain (Hardcover)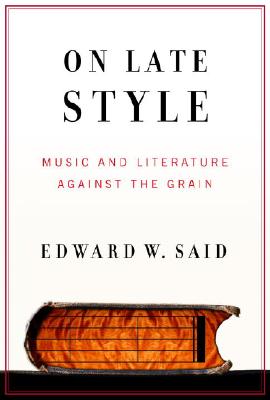 Description
---
In his fascinating last book, Edward Said looks at a selection of essays, poems, novels, films, and operas to determine what late style may explain about the evolution of the creative life. He discusses how the approaching death of an artist can make its way "with anachronism and anomaly" into his work, as was the case in the late work of Thomas Mann, Richard Strauss, Jean Genet, Giuseppe Tomasi di Lampedusa, and C. P. Cavafy. Said examines Beethoven's Missa Solemnis, Genet's Le captif amoureux and Les paravents, Mozart's Così fan tutte, Visconti's film of Lampedusa's The Leopard, Euripides' The Bacchae and Iphigenia at Aulis, and Thomas Mann's Death in Venice, among other works.

He points out that one can also find an "unearthly serenity," in last works, for example, in Sophocles, Shakespeare, Rembrandt, Matisse, Bach, and Wagner, which, as Said puts it, "crown a lifetime of aesthetic endeavor." But in On Late Style he concentrates on artistic lateness as "intransigence, difficulty, and unresolved contradiction." He also writes about Theodor Adorno and about Glenn Gould, who chose to stop performing, thereby creating his own form of lateness. Said makes clear that most of the works discussed are rife with deep conflict and an almost impenetrable complexity. In fact, he feels that lateness is often "a form of exile." These works frequently stood in direct contrast to what was popular at the time, but they were forerunners of what was to come in each artist's particular discipline—works of true genius.

Eloquent and impassioned, brilliantly reasoned and revelatory, On Late Style is Edward Said's own great last work.
About the Author
---
Edward W. Said was the author of more than twenty books; a regular contributor to newspapers in Europe, Asia, and the Middle East; and music critic for "The Nation." He was also an accomplished pianist who collaborated with Daniel Barenboim and Yo-Yo Ma. Born in Jerusalem, he lived most of his adult life in New York City. He died in 2003.
Praise For…
---
"Edward W. Said was himself an example of 'the virtuoso as intellectual,' as he has referred to Glenn Gould. Strauss, Beethoven, Schoenberg, Mann, Genet, Adorno, Lampedusa, Visconti, and Gramsci are all in this brilliant book—a profound statement of Said's humanity, which I can only find encouraging as I face the inevitable predicament of the late stage of my own life."
—KENZABURO OE