John James Audubon: The Making of an American (Hardcover)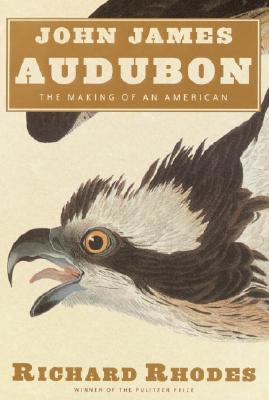 Description
---
From the Pulitzer Prize—winning historian Richard Rhodes, the first major biography of John James Audubon in forty years, and the first to illuminate fully the private and family life of the master illustrator of the natural world.

Rhodes shows us young Audubon arriving in New York from France in 1803, his illegitimacy a painful secret, speaking no English but already drawing and observing birds. We see him falling in love, marrying the wellborn English girl next door, crossing the Appalachians to frontier Kentucky to start a new life, fashioning himself into an American just as his adopted country was finding its identity.

Here is Audubon exploring the wilderness of birds–pelicans wading the shallows of interior rivers, songbirds flocking, passenger pigeons darkening the skies–and teaching himself to revivify them in glorious life-size images. Now he finds his calling: to take his hundreds of watercolor drawings to England to be engraved in a great multivolume work called The Birds of America. Within weeks of his arrival there in 1826, he achieves remarkable celebrity as "the American Woodsman." He publishes his major work as well as five volumes of bird biographies enhanced by his authentic descriptions of pioneer American life.

Audubon's story is an artist's story but also a moving love story. In his day, communications by letter across the ocean were so slow and uncertain that John James and his wife, Lucy, almost lost each other in the three years when the Atlantic separated them–until he crossed the Atlantic and half the American continent to claim her. Their letters during this time are intimate, moving, and painful, and they attest to an enduring love.

We examine Audubon's legacy of inspired observation–the sonorities of a wilderness now lost, the brash life of a new nation just inventing itself–precisely, truthfully, lyrically captured. And we see Audubon in the fullness of his years, made rich by his magnificent work, winning public honor: embraced by writers and scientists, fêted by presidents and royalty.

Here is a revelation of Audubon as the major American artist he is. And here he emerges for the first time in his full humanity–handsome, charming, volatile, ambitious, loving, canny, immensely energetic. Richard Rhodes has given us an indispensable portrait of a true American icon.
About the Author
---
Richard Rhodes is the author of twenty books, including novels and works of history, journalism and letters. His "The Making of the Atomic Bomb "won a Pulitzer Prize for General Nonfiction, a National Book Award, and a National Book Critics Circle Award. "Dark Sun, "about the development of the hydrogen bomb, was one of three finalists for a Pulitzer Prize in History. A Kansas native, he has frequently explored American history and biography in articles for national magazines. He lives in Half Moon Bay, California.

Richard Rhodes s "Masters of Death" and "Why They Kill" are available in Vintage paperback."