Little Money Street: In Search of Gypsies and Their Music in the South of France (Hardcover)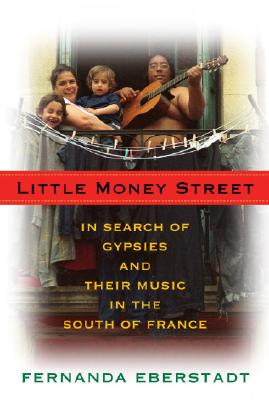 Description
---
From the author of four novels comes this remarkable book, both impassioned and humorous, about the Gypsies of southwestern France—their habits, their haunts, and their haunting music.

In 1998, Fernanda Eberstadt, her husband, and their two small children moved from New York to an area outside Perpignan, a city set on a series of bluffs overlooking the river Tet, with one of the largest Gypsy populations in Western Europe. Always fascinated with Gypsy music, Eberstadt became obsessed with the local "Gypsy rumba," and with a Perpignan band called Tekameli, perhaps the greatest Gypsy band between Barcelona and Budapest. After eighteen futile months of trying to make contact, she was at last invited into the home of Tekameli's lead singer, Moïse Espinas, and into the closed world of the Gypsies.

Here she found a jealously guarded culture—a society made, in part, of lawlessness and defiance of non-Gypsy norms—that nonetheless made room for her, "a privileged American in a Mediterranean underworld." As her relationship with the Espinas family changed over the years from mutual bafflement to a deep-rooted friendship, Eberstadt found herself a part of Gypsy life, moving about in a large group whose core included Moïse, his wife, her sister, and their children—at cockfights, in storefront churches, at malls, in their homes, and at their rehearsals, discovering lives lived "between biblical laws and strip-mall consumerism"—and always accompanied by the intense and infectious beat of their heart-stopping music.

Little Money Street is a spellbinding story of the Gypsies and the little-known landscape in France they have called home for centuries, and of one woman's extraordinary journey among them.
Praise For…
---
"Little Money Street is a fascinating journey into this secret nation, rich with detours and through a hidden corner of the world."
—The Seattle Times

"In Eberstadt's talented hands the sojourn becomes an intriguing look at the mores of a mysterious and maligned subset of Europe's underclass, a fascinating freeze-frame of a fading culture."
—People

"[Eberstadt] has made her way into Gypsy life far enough to bring back telling, often touching stories."
—The Boston Globe

"A passionate personalized portrait of a people whose soulfulness surges through the raw wails of their flamencos, rumbas, and fandangos."
—Elle