Inferno (Hardcover)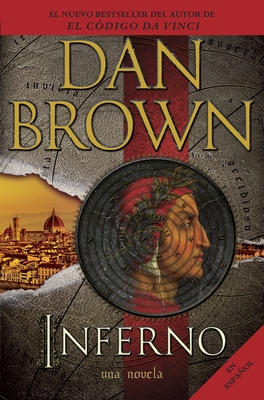 $29.95
Usually Ships in 1-5 Days
Description
---
En sus novelas mas exitosas El codigo Da Vinci, Angeles y Demonios, y El simbolo perdido Dan Brown incorporo con maestria historia, arte, codigos y simbolos. En su apasionante nuevo thriller, Brown vuelve a su elemento y construye su mas arriesgada novela hasta la fecha.

En el corazon de Italia, el profesor de simbologia Robert Langdon es arrastrado a un perturbador mundo centrado en uno de las mas misteriosas obras de la literatura... el Infierno de Dante.
Alli, Langdon luchara contra un terrorifico adversario y un ingenioso enigma que lo atrapara en un mundo de arte, pasillos secretos y ciencia futuristica. Usando el sombrio poema de Dante como referencia, Langdon debera encontrar respuestas y decidir en quien puede confiar y en quien no... antes que el mundo se vea alterado irrevocablemente.
About the Author
---
Dan Brown es el autor de multiples bestsellers internacionales y #1 de The New York Times, incluyendo El codigo Da Vinci, El simbolo perdido, Angeles y demonios, La fortaleza digital y La conspiracion. Sus libros han sido traducidos a mas de cincuenta idiomas en todo el mundo. Brown se graduo de Amherst College y de Phillips Exeter Academy, donde fue profesor antes de dedicarse a tiempo completo a la escritura. Vive en Nueva Inglaterra con su esposa.
Praise For…
---
Elogios para Inferno...

"Rápida, inteligente e ingenioso…Dan Brown es el maestro del suspense intelectual". —The Wall Street Journal

"Un libro alucinante". —USA  Today
 
"Un thriller divertidísimo". —Entertainment Weekly
 
"Dan Brown nos seduce de nuevo con un género que había sido dado por muerto".  —The New York Times
 
"Brown es más que un novelista… Inferno es el tipo de lectura escapista para la cual el verano fue hecho".  —The Boston Globe
 
"Diversión desgarradora bordada con mensajes codificados, arte, ciencia y una inminente catástrofe".  —Daily News (New York)
 
"[Brown es] el autor de thrillers más cruel del mundo… Inferno se desenvuelve con velocidad, entusiasmo y diversión".  —The Independent (UK)
 
"Una aventura a través de un texto literario…un espectáculo arrebatador".  —Pittsburgh Post-Gazette
 
"Una carrera rápida y furiosa".  —The Plain Dealer
 
"Un maestro del thriller apasionante y críptico".  —Richmond Times-Dispatch
 
 "Lo que hace que Brown sea atractivo a millones de personas a través del mundo es su saber contar historias que nos recuerdan que hay más al mundo de lo que parece".  —The Huffington Post