Shocked: My Mother, Schiaparelli, and Me (Paperback)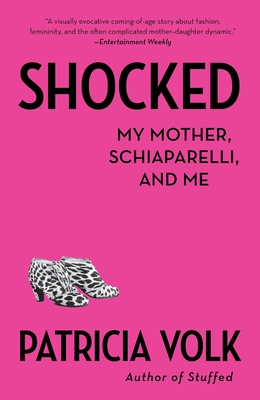 $16.95
Usually Ships in 1-5 Days
Description
---
An NPR Best Book of the Year
APublishers WeeklyBest Book of the Year
How does a girl fashion herself into a woman? In this richly illustrated memoir, writer Patricia Volk juxtaposes her two childhood idols to find her answer. Her mother, Audrey, was an upper-middle-class New Yorker and a great beauty meticulously groomed, proudly conventional. Elsa Schiaparelli was an avant-garde fashion designer whose creations broke every rule and elevated clothing into art. While growing up in Audrey's strict household, Patricia read Schiap's freewheeling autobiography and was transformed by it.
Shocked weaves Audrey's traditional notions of domesticity with Schiap's often outrageous ideas, giving us a revelatory meditation on beauty and on being a daughter, sister, and mother and demonstrating, meanwhile, how a single book can change a life.
About the Author
---
Patricia Volk is the author of the memoir Stuffed: Adventures of a Restaurant Family, as well as four works of fiction. She is the recipient of a Guggenheim Fellowship and has taught at Columbia University, New York University, and Bennington College. Her writing has appeared in The New York Times, The Atlantic, New York, The New Yorker, and Playboy. She lives in New York City.
Praise For…
---
"A visually evocative coming-of-age story about fashion, femininity, and the often complicated mother-daughter dynamic." —Entertainment Weekly

"A brilliant, boisterous memoir that breaks new ground in terms of the memoir form and also the archetypal story of the mother-daughter bond. . . . I cannot tell you, apart from its other virtues, how much fun this memoir is to read. . . . Shocked is a physically beautiful book, but like Schiaparelli's designs, it commands deeper attention because of the wit and originality that inspire its composition." —Maureen Corrigan, NPR Books

"Inspiring. . . . A moving personal sesay about the female relationship to luxury and beauty." —Joan Juliet Buck, W magazine 

"We feel life's potential swirling around Volk as she lovingly chronicles the unique paths of her two muses. Volk ultimately embraces her mother's love, but is now also able to break free, to see 'the ripe kaleidoscopic pure pleasure of looking,' Schiap-style." —O, The Oprah Magazine
 
"A meditation on the plastic possibilities of womankind and a very special treat." —The New York Times Book Review

"Delightful. . . . Disarming, eccentric. . . . Ms. Volk is thoroughly likable, warm and generous, with a well-tuned ear and a vivid sense of humor." —The Wall Street Journal

"Warm, funny, sharp-eyed. . . . 'Schiap planted the idea that imagination trumped beauty, that being different might be a virtue,' Volk says. And that there is, after all, more than one way to be a woman." —More Magazine

"Intimate and idiosyncratic. . . . Volk's remembrances provide a breath of balmy air. . . . Shows us that a third-party mediator can reconcile our differences, reassuring both mother and child that the girl will find her own way in the end." —Chicago Tribune

"[Volk] expertly juxtaposes the details of her family's midcentury Manhattan upper-middle-class life with the life Schiaparelli was leading in Rome and Paris." —The Plain Dealer

"Volk again portrays her family with great humor and love." —The Jewish Week

"Exquisitely written . . . a compelling snapshot of the groundbreaking designer—and an even more fascinating insight into Audrey, a paragon of mid-20th-century New York style before the late-60s youthquake ripped off the armoured undergarments, released the shellacked hair, and exploded the image of the perfectly presented woman." —The Observer (London)

"You have to be very grown up to write a memoir as wise as Shocked. . . . It deserves to become a classic." —Kennedy Fraser

"This daring and irresistible catalog of the secrets of women cements Volk's reputation as one of our most amusing writers. . . . If God is in the details, then this is one of the godliest books I've read in ages, because the details are priceless." —Phillip Lopate

"[A] tour de force. . . . It's a pure joy to be in Patricia Volk's presence on the pages of her new book." —Louis Begley

"Volk has a talent for unearthing meaning in the seemingly mundane. . . . This memoir is a compelling tribute to two ambitious women who were way ahead of their time." —Publishers Weekly (starred)

"Nothing short of delicious. . . . Generously illustrated with images from the two worlds Volk depicts, the narrative that emerges from Volk's deft interweaving of lives is as sharp-eyed as it is wickedly funny." —Kirkus Reviews

"The contrast between Audrey and Elsa couldn't be more startling or poignant . . . but parallels also abound, and through Volk's history and memories, we get the best of both women and their impact on the author." —Booklist