In Spite of Myself (Paperback)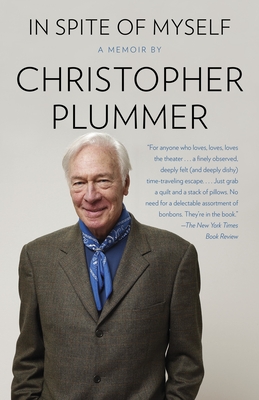 Description
---
A vibrant, exuberant self-portrait of one of today's greatest living actors.
Christopher Plummer's magnificent book recounts the wild adventure that is his life, stretching from a privileged childhood in Canada to the glorious, star-studded New York of the fifties to a sensational career in film appearing in some of our most beloved classics. Here are his late nights out with Carson McCullers, Tennessee Williams, Paddy Chayefsky, and Arthur Miller; his affairs and marriages; his collaborations with famed producers; and his memorable roles alongside fellow young and talented actors, each also destined for stardom: Judi Dench, Vanessa Redgrave, Peter O Toole, Natalie Wood, and countless others. Plummer weaves delicious anecdotes of a life spent on stages and film sets across the world from Peter Hall's Royal Shakespeare Theatre to The Sound of Music (affectionately dubbed S&M ) into a boisterous narrative filled with humor and irresistible charm.
About the Author
---
Christopher Plummer was born in Toronto, Ontario. He has acted in more than 100 feature films, including The Man Who Would Be King, The Sound of Music, Stage Struck, and The Insider, and he has starred in three of the world's most important theatre companies: Great Britain's National Theatre, The Royal Shakespeare Company, and the Stratford Festival of Canada. He received two Tony Awards for Best Actor (Barrymore; Cyrano), and he has been nominated for the award seven other times. He also received a London Evening Standard Award for Best Actor for Becket. He has received Emmys, the John Gielgud Quill Award, the Edwin Booth Award (Barrymore), The Jason Robards Award for Excellence, and has been inducted into the Theatre Hall of Fame. He received an Oscar nomination for Best Supporting Actor for his role in Beginners. He lives in Connecticut with his wife, Elaine Taylor.
Praise For…
---
"For anyone who loves, loves, loves the theater…a finely observed, deeply felt (and deeply dishy) time-traveling escape. . . . Just grab a quilt and a stack of pillows. No need for a delectable assortment of bonbons. They're in the book." —The New York Times Book Review

"Splendid, lively. . . . An immensely satisfying memoir, of rare grace, good humor, and unapologetic self-honesty. . . . In tact and generosity of spirit, it is the very model of what a memoir should be." —The Daily Beast

"A staggering parade of theater-world luminaries struts, swaggers, and yes, occasionally staggers through this compulsively readable memoir. . . . [Plummer] has a tasty anecdote about onstage, backstage, or drinking-hole doings about every single one of them." —The New York Times

"Rich and riotous. . . . He seems to have been everywhere—including inside almost every room of the Hotel du Cap on the French Riviera—and known everyone." —Jennifer Schuessler, The New York Times
 
"The veteran actor's delightfully sprawling account of his life and career." —USA Today

"[A] fascinating memoir. . . . The book records so many trysts, pratfalls, drunken evenings—and afternoons—that it's amazing he has survived. . . . Amply shows how Mr. Plummer has managed a long, successful career in spite of himself." —The Wall Street Journal
 
"In spite of himself–his relentlessly high artistic principles; his penchant for playing the underdog, even when he was the star; his keen ear equally attuned to the precision of Elizabethan verse and to what passes as truth across a whiskey at 5 a.m. . . . this man has experienced a life rich in textures, and he is able to give most of them glorious voice. His is a life in the theater lived hard and true, in the grand tradition of those distinguished players who went before, whom he surely made proud. Good sir! I raise my glass to you." —Alex Witchel, The New York Times Book Review