The System: The Glory and Scandal of Big-Time College Football (Paperback)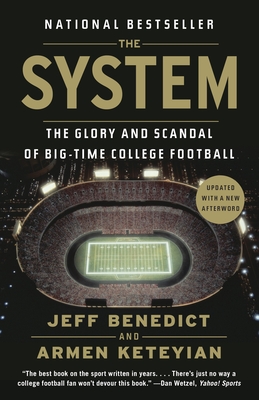 $16.95
Usually Ships in 1-5 Days
Description
---
A Shelf Awareness Best Book of the Year
NCAA football is big business. Every Saturday millions of people file into massive stadiums or tune in on television as "athlete-students" give everything they've got to make their team a success. Billions of dollars now flow into the game. But what is the true cost? The players have no share in the oceans of money. And once the lights go down, the glitter doesn't shine so brightly. Filled with mind-blowing details of major NCAA football scandals, with stops at Ohio State, Tennessee, Texas Tech, Missouri, BYU, LSU, Texas A&M and many more, The Systemexplores and exposes the complex, and perhaps broken, machine that churns behind the glamour of college football.
With a New Afterword.
About the Author
---
JEFF BENEDICTis one of the country s top investigative reporters. He is a special features contributor forSports Illustratedand the author of eleven critically acclaimed books, includingPros and ConsandOut of Bounds. His essays and articles have appeared in theNew York Times, Newsweekand theLos Angeles Times, among other publications. ARMEN KETEYIANis a CBS News correspondent based in New York and the lead correspondent for60 Minutes Sportson Showtime. An eleven-time Emmy Award winner, he is widely regarded as one of the finest investigative journalists in the country. He is also the author or coauthor of nine previous books, includingMoney PlayersandRaw Recruits."
Praise For…
---
"The best book on the sport written in years (and that's coming from someone who has written a couple). The System will shock fans as the saturation reporting peels back the veneer on everything from coaching politics, to sexual tension in tutoring labs, to the role of recruiting hostesses, to back-stabbing conference realignment, to super boosters, and so on. Even the hardcore fans, though, will be surprised -- everyone knows this is a wild business, just not in such detail...There's just no way a college football fan won't devour this book."
--Dan Wetzel, Yahoo!Sports

"The System is hands-down the best college football book I've ever read. It is that rare non-fiction book that reads like a great crime novel in that you just can't put it down. The System covers the good, the bad and the ugly in the world of college football, including an inside look at a walk-on being picked in the first round of the NFL draft, big-time college football scandals and an epidemic of criminal behavior by players on campus. It's a completely unvarnished look at the second-most popular sport in the country that will leave you aghast at the underworld that exists beneath college stadiums."
--Jim Weber, LostLettermen.com

"There is a major storm brewing on college football's horizon. At the eye of the storm is a book that is a must-read for hardcore college football fans who want to know the truth about 'The System.'"
--Frank Cooney, The Sports Exchange

"[A] harrowing and occasionally uplifting journey -- or literary trip -- through recent history and across the country's most football-obsessed campuses."
--Harvey Araton, The New York Times

"One of the most sweeping yet meticulously researched books ever written on big-time college football...."The System" isn't just a good read. For anyone who cares about major college athletics, it is a vital read. "The System" isn't about one aspect of college football. It's about every aspect....arresting....in the end, the beauty is not in the shock value, but in the detail, shocking and mundane, that is so carefully presented."
--The Hartford Courant

"The System is a broad survey of the machinery of college football: the money and marketing, the recruiting and classroom pampering, the off-the-books privileges. The authors trace the efforts of various programs and coaches who try to avoid the excess and trickery and do right by their student-athletes. But clearly the system is hard to beat, and it has a corrupting effect on nearly everyone involved."
--The Wall Street Journal


"I just read and can't stop extolling The System: The Glory and Scandal of Big-Time College Football by Jeff Benedict and Armen Keteyian (reviewed below). I expected scandal, I expected feel-good stories; what I didn't expect was a book so riveting that I missed my bus stop...Jeff Benedict and Armen Keteyian have given us a thrilling read."
--Marilyn Dahl, editor, Shelf Awareness for Readers