The Alpine Xanadu (Mass Market Paperbound)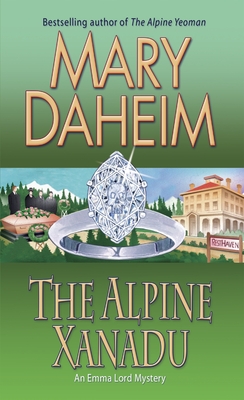 $7.99
Usually Ships in 1-5 Days
Description
---
An exhilarating installment in Mary Daheim's beloved and long-running small-town murder mystery series set in Alpine, Washington, and featuring unforgettable newspaper editor Emma Lord
Winter in the small mountain aerie of Alpine should be as quiet as new-fallen snow on the Cascades, but from the Grocery Basket to the Venison Inn, the town is humming. At the "Alpine Advocate, " editor Emma Lord and her staff are on deadline with a feature about the opening of RestHaven, a new rehab and mental health facility. Front Street is buzzing with gossip about Emma's recent engagement to Sheriff Milo Dodge. And now that fool Wayne Eriks has climbed an electric pole in the middle of a storm and got himself electrocuted.
Sheriff Dodge doesn t buy the idea that Wayne's death is an accident. But how and, more important, why he died is only one of the conundrums that keep the sheriff and Emma working overtime. Why is RestHaven giving Alpine so many restless nights? What to make of allegations that someone's trying to kill the richest man in town . . . or whispers of a rash of indecent behavior at the local high school? After Vida Runkel, the "Advocate"'s stalwart House & Home editor, disappears into thin air, Milo and Emma suddenly have too many loose ends to solve before they can even think about tying the knot.
"The Alpine Xanadu "features beloved characters from the series alongside some sinister new ones not to mention a mystery that will shake Alpine to its core.
Praise for Mary Daheim and her Emma Lord mysteries
Always entertaining. "The Seattle Times"
Mary Daheim writes with wit, wisdom, and a big heart. I love her books. Carolyn Hart
Daheim writes . . . with dry wit, a butter-smooth style, and obvious wicked enjoyment. "The Oregonian"
The characters are great, and the plots always attention-getting. King Features Syndicate
Even the most seasoned mystery fans are caught off-guard by Daheim s] clever plot twists. BookLoons Reviews
Witty one-liners and amusing characterizations. "Publishers Weekly"
"From the Hardcover edition.
About the Author
---
Mary Richardson Daheimstarted spinning stories before she could spell. Daheim has been a journalist, an editor, a public relations consultant, and a freelance writer, but fiction was always her medium of choice. In 1982, she launched a career that is now distinguished by more than sixty novels. In 2000, she won the Literary Achievement Award from the Pacific Northwest Writers Association. In October 2008, she was inducted into the University of Washington s Communication Alumni Hall of Fame. Daheim lives in her hometown of Seattle and is a direct descendant of former residents of the real Alpine, which existed as a logging town from 1910 to 1929, when it was abandoned after the mill was closed. The Alpine/Emma Lord series has created interest in the site, which was named a Washington State ghost town in July 2011. An organization called the Alpine Advocates has been formed to preserve what remains of the town as a historic site."
Praise For…
---
Praise for Mary Daheim and her Emma Lord mysteries
 
"Always entertaining."—The Seattle Times
 
"Mary Daheim writes with wit, wisdom, and a big heart. I love her books."—Carolyn Hart
 
"Daheim writes . . . with dry wit, a butter-smooth style, and obvious wicked enjoyment."—The Oregonian
 
"The characters are great, and the plots always attention-getting."—King Features Syndicate
 
"Even the most seasoned mystery fans are caught off-guard by [Daheim's] clever plot twists."—BookLoons Reviews
 
"Witty one-liners and amusing characterizations."—Publishers Weekly