The Deep Zone: A Novel (with Bonus Short Story Lethal Expedition) (Mass Market Paperbound)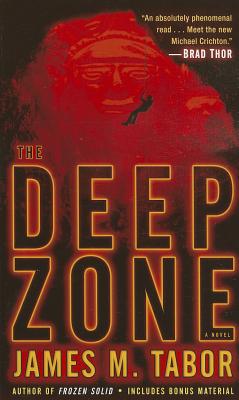 $7.99
Usually Ships in 1-5 Days
Description
---
"Deep-earth adventure, scintillating science, and cutthroat intrigue collide with thrilling results that left me breathless and awed. . . . Truly impressive."--James Rollins
Burned by her own government in a trumped-up scandal, brilliant microbiologist Hallie Leland swore she'd never return to the world of cutting-edge science and dangerous secrets. But a shocking summons from the White House changes all that. A mysterious epidemic is killing American soldiers in Afghanistan--and poised for outbreak in the United States and beyond. Without the ultrarare organism needed to create an antidote, millions will die. Hallie knows more about "Moonmilk" than anyone--but it can be found only at the bottom of the deepest cave on Earth. To get there, she and her team of experts must brave a forbidding Mexican jungle crawling with drug cartels, federales, and murderous locals. And in the supercave await far greater terrors: flooded tunnels, acid lakes, bottomless chasms, mind-warping blackness--and a cunning assassin with orders to make the mission a journey of no return.
"Just like the perilous cave that serves as its backdrop, this story is dark and terrifying--but with a light at its end. The book should come shrink-wrapped with a seat belt."--Steve Berry
"Brings a new meaning to 'frightening.'"--The Star-Ledger
Don't miss James M. Tabor's short story "Lethal Expedition" and a sneak peek of his new novel, "Frozen Solid, "in the back of the book.
About the Author
---
James M. Tabor is the bestselling author of "Blind Descent" and "Forever""on the Mountain "and a winner of the O. Henry Award for short fiction. A former Washington, D.C., police officer and a lifelong adventure enthusiast, Tabor has written for "Time, The Wall Street Journal, The Washington Post, " and "Outside" magazine, where he was a contributing editor. He wrote and hosted the PBS series "The Great Outdoors" and was co-creator and executive producer of the History Channel's "Journey to the Center of the World." He lives in Vermont, where he is at work on his next novel.
Praise For…
---
"Deep-earth adventure, scintillating science, and cutthroat intrigue collide with thrilling results that left me breathless and awed. . . . Truly impressive."—James Rollins
"Just like the perilous cave that serves as its backdrop, this story is dark and terrifying—but with a light at its end. The book should come shrink-wrapped with a seat belt."—Steve Berry

"One of the most ripping, primal thrillers I've read in a long while."—David Morrell

"Brings  a new meaning to 'frightening.'"—The Star-Ledger

"Thriller fans should pay attention."—Library Journal