The Human Blend (Hardcover)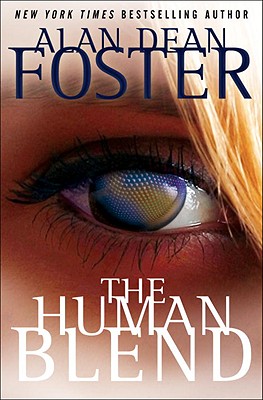 Description
---
Alan Dean Foster's brilliant new novel is a near-future thriller that has all the dark humor and edgy morality of an Elmore Leonard mystery, in addition to the masterly world-building and quirky but believable characters readers expect from Foster. This gripping adventure reveals a place where criminals are punished through genetic engineering and bodily manipulation—which poses profound questions about what it means to be human.

Given his name because radical surgery and implants have reduced him to preternatural thinness, Whispr is a thug. His partner in crime, Jiminy Cricket, has also been physically altered with nanocarbonic prosthetic legs and high-strength fast-twitch muscle fibers that give him great jumping abilities. In a dark alley in Savannah, Whispr and Jiminy murder what they take to be a random tourist in order to amputate and then fence his sophisticated artificial hand. But the hapless victim also happens to be carrying an unusual silver thread that appears to be some kind of storage medium. Ever quick to scent potential profit, Whispr and Jiminy grab the thread as well.

Chance later deposits a wounded Whispr at the clinic of Dr. Ingrid Seastrom. Things have not gone smoothly for Whispr since he acquired the mysterious thread. Powerful forces are searching for him, and Jiminy has vanished. All Whispr wants to do is sell the thread as quickly as he can. When he offers to split the profits with Ingrid in exchange for her medical services, she makes an astonishing discovery.

So begins a unique partnership. Unlike Whispr, Ingrid is a natural, with no genetic or bodily alteration. She is also a Harvard-educated physician, while Whispr's smarts are strictly of the street variety. Yet together they make a formidable team—as long as they can elude the enhanced assassins that are tracking them.
About the Author
---
Alan Dean Foster has written in a variety of genres, including hard science fiction, fantasy, horror, detective, Western, historical, and contemporary fiction. He is the author of the "New York Times "bestseller "Star Wars: The Approaching Storm" and the popular Pip & Flinx novels, as well as novelizations of several films including "Transformers, Transformers: Revenge of the Fallen, Star Wars, " the first three "Alien" films, and "Alien Nation." His novel" Cyber Way" won the Southwest Book Award for Fiction in 1990, the first science fiction work ever to do so. Foster and his wife, JoAnn Oxley, live in Prescott, Arizona, in a house built of brick that was salvaged from an early-twentieth-century miners' brothel. He is currently at work on several new novels and media projects.