Babylon Babies (Mass Market Paperbound)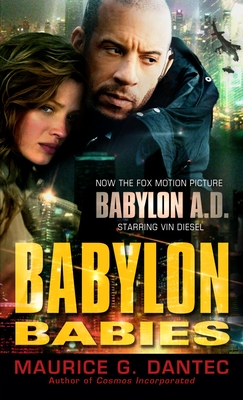 Description
---
"What makes the novel so haunting is its vision of a near future in which society has fractured along every possible national, tribal and sectarian fault line."
-The New York Times Book Review

In the hidden "flesh and chip" breeding grounds of the first cyborg communities, Toorop, a hard-boiled Special Forces veteran of Sarajevo, is hired by a shadow organization to escort a young woman, Marie Zorn, from Russia to Canada. But what appears to be a routine job is anything but. After completing the mission, Thoorop discovers that Marie is no ordinary girl. A genetically altered pawn in an elaborate plot, Marie is carrying a dark secret that could spell destruction for all humankind-if Thoorop doesn't track her down before it's too late.

"A vast encyclopedia of the future as seen through a crystal ball with cracks in the glass."
-The Sydney Morning Herald

"Intense."
-Publishers Weekly.
About the Author
---
Maurice G. Dantec was born in France in 1959. A former advertising executive and songwriter for a French punk-rock group, Dantec is a shameless lover of science fiction, crime novels, and metaphysics. He is the author of Red Siren, which won France's 813 Award for best crime novel, and The Roots of Evil, which won France's Prix de l'Imaginaire. He is also the author of Villa Vortex, Cosmos Incorporated, and Theatre of Operations, a series of journal essays. He lives in Montreal.