The Difference Between Women and Men: Stories (Paperback)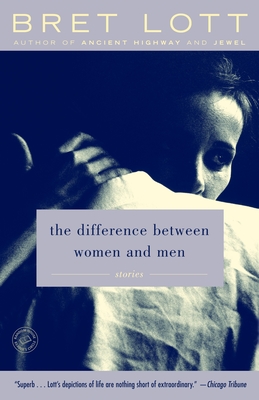 Description
---
In this deeply affecting, beautifully crafted collection of short fiction, Bret Lott broadens his stylistic range, striking a surprisingly surreal tone with stark, hyperrealistic prose. As story after dazzling story deliberately takes you down a deceptively ordinary path, the arresting center of each startles your unsuspecting sensibility.
Among the narrative gems is "Family," in which a husband and wife bicker incessantly before realizing that their two children are missing, only to discover them in a surprising place-and in a disturbing condition. In "Everything Cut Will Come Back," a long-distance phone call between two brothers takes a turn when their own tragic past crackles over the line. In "History," a widow thinks she spots her son at the airport and is left instead with a simple memory of her late husband that resolves her grief. The innocence of three boys is lost when they witness a devastating winter tragedy in "The Train, the Lake, the Bridge."
Within these pages, adulterers are unceremoniously caught, epiphanies arrive during bizarre encounters, and characters move through everyday moments with a fortitude that elevates these stories almost to mythical status. Without a stroke of false sentimentality, The Difference Between Women and Men will leave you strangely shaken-and ever aware of the odd permutations of humankind.
"From the Hardcover edition.
About the Author
---
BRET LOTT is the author of the novels A Song I Knew by Heart, Jewel (an Oprah's Book Club selection in 1999), Reed's Beach, A Stranger's House, The Man Who Owned Vermont, and The Hunt Club; the story collections A Dream of Old Leaves and How to Get Home; and the memoir Fathers, Sons, and Brothers, and Before We Get Started. He and his wife now live in Baton Rouge, Louisiana, where he is editor of The Southern Review and professor of English at Louisiana State University. "From the Hardcover edition."
Praise For…
---
Praise for A SONG I KNEW BY HEART

"An affecting novel about the slow workings of forgiveness and redemption . . . informed by virtues that rarely make it unedited into literature anymore."
–MAUREEN CORRIGAN, National Public Radio

"Written in lyrical rhythms . . . an affecting hymn to family love and a mantra of empathy and forgiveness."
–Richmond Times Dispatch

"We can only admire the way Lott . . . creates and differentiates so many characters and sets them into action so naturally. . . . A chance to visit a country of grace where the twisted roads of American literature seldom lead us."
–Los Angeles Times Book Review

"A moving story . . . Lott uses lyrical, poetic language and addresses moral principles that force the reader to stop for self-reflection."
–Tulsa World