The Steel Remains (Paperback)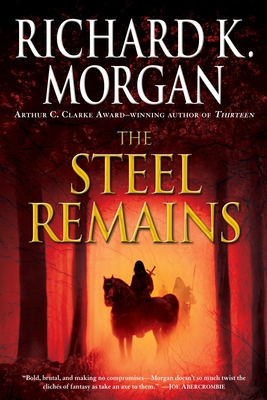 $17.00
Usually Ships in 1-5 Days
Description
---
A dark lord will rise. Such is the prophecy that dogs Ringil Eskiath--Gil, for short--a washed-up mercenary and onetime war hero whose cynicism is surpassed only by the speed of his sword. Gil is estranged from his aristocratic family, but when his mother enlists his help in freeing a cousin sold into slavery, Gil sets out to track her down. But it soon becomes apparent that more is at stake than the fate of one young woman. Grim sorceries are awakening in the land. Some speak in whispers of the return of the Aldrain, a race of widely feared, cruel yet beautiful demons. Now Gil and two old comrades are all that stand in the way of a prophecy whose fulfillment will drown an entire world in blood. But with heroes like these, the cure is likely to be worse than the disease.
From the Hardcover edition.
About the Author
---
Richard K. Morgan is the acclaimed author of Thirteen, which won the Arthur C. Clarke Award, Woken Furies, Market Forces, Broken Angels, and Altered Carbon, a New York Times Notable Book that also won the Philip K. Dick Award. Morgan sold the movie rights for Altered Carbon to Joel Silver and Warner Bros. His third book, Market Forces, has also been sold to Warner Bros. and was winner of the John W. Campbell Award. He lives in Scotland. From the Hardcover edition.
Praise For…
---
 
"Bold, brutal, and making no compromises—Morgan doesn't so much twist the clichés of fantasy as take an axe to them."—Joe Abercrombie

"The award-winning author of Altered Carbon and Market Forces brings the same iconoclastic approach to his fantasy debut as he did to his sf technothrillers. . . . [Richard K.] Morgan's storytelling talent and his atmospheric, hard-hitting prose make this a strong addition to mature fantasy collections."—Library Journal

"Spellbinding . . . There's so much to like about the adventure."—Star-Ledger


"Morgan has taken traditional sword and sorcery tropes and given them a hard, contemporary kick. The antithesis of the cosy fairytale, this one is for big boys."—Times, London
 
"[A] dark, gritty tale . . . The well-developed characters and realistic battle scenes ring true."—Publishers Weekly