The World Below (Mass Market Paperback)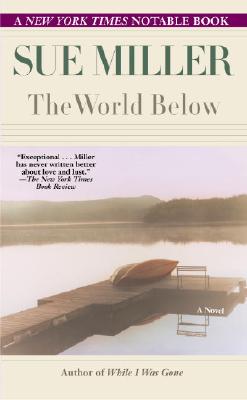 Description
---
From the author of While I Was Gone, a stunning new novel that showcases Sue Miller's singular gift for exposing the nerves that lie hidden in marriages and families, and the hopes and regrets that lie buried in the hearts of women.
Maine, 1919. Georgia Rice, who has cared for her father and two siblings since her mother's death, is diagnosed, at nineteen, with tuberculosis and sent away to a sanitarium. Freed from the burdens of caretaking, she discovers a nearly lost world of youth and possibility, and meets the doomed young man who will become her lover.
Vermont, the present. On the heels of a divorce, Catherine Hubbard, Georgia's granddaughter, takes up residence in Georgia's old house. Sorting through her own affairs, Cath stumbles upon the true story of Georgia's life and marriage, and of the misunderstanding upon which she built a lasting love.
With the tales of these two women--one a country doctor's wife with a haunting past, the other a twice-divorced San Francisco schoolteacher casting about at midlife for answers to her future--Miller offers us a novel of astonishing richness and emotional depth. Linked by bitter disappointments, compromise, and powerful grace, the lives of Georgia and Cath begin to seem remarkably similar, despite their distinctly different times: two young girls, generations apart, motherless at nearly the same age, thrust into early adulthood, struggling with confusing bonds of attachment and guilt; both of them in marriages that are not what they seem, forced to make choices that call into question the very nature of intimacy, faithfulness, betrayal, and love. Marvelously written, expertly told, The World Below captures the shadowy half-truths of the visible world, and the beauty and sorrow submerged beneath the surfaces of our lives--the lost world of the past, our lost hopes for the future. A tour de force from one of our most beloved storytellers.
"From the Hardcover edition.
About the Author
---
Sue Miller was born in Chicago in 1943, the second of four children in an academic and ecclesiastical family. She grew up reading, writing, and dancing to 50's rhythm and blues in Hyde Park, and went to college at Harvard. She was married at twenty, shortly after she graduated, and held a series of odd jobs until her son Ben was born in 1968. She separated from her first husband in 1971, and for thirteen years was a single parent in Cambridge, Massachusetts, working in day care, taking in roomers, studying the piano, and writing with increasing focus.

Sue Miller's first story was published in 1981. Since then, she has taught in various writing programs in the Boston area. In 1983-84 Sue Miller had a Bunting Fellowship at Radcliffe, which led her to the publication of her first novel, The Good Mother. She finished the novel in 1985, it was published 1986, and was quickly followed by a collection of short stories. In the 90's she published Family Pictures, For Love, The Distinguished Guest, and While I Was Gone. She is currently writing a memoir about her father's death from Alzheimer's disease.

Sue Miller was married in 1985 to the writer Douglas Bauer. They are now divorced. After living in Boston for 12 years, Sue Miller returned this spring to Cambridge, which she refers to as the land of many bookstores. "From the Hardcover edition."
Praise For…
---
"Vintage Miller: a quiet, subtle story of longing, loss, and the compensations that, surprisingly, satisfy and endure."--Kirkus Reviews