Homeward Bound (Mass Market Paperbound)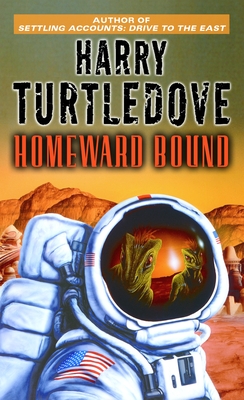 Description
---
The twentieth century was awash in war. World powers were pouring men and machines onto the killing fields of Europe. Then, in one dramatic stroke, a divided planet was changed forever. An alien race attacked Earth, and for every nation, every human being, new battle lines were drawn. .

HOMEWARD BOUND

With his epic novels of alternate history, Harry Turtledove shares a stunning vision of what might have been-and what might still be-if one moment in history were changed. In the WorldWar and Colonization series, an ancient, highly advanced alien species found itself locked in a bitter struggle with a distant, rebellious planet-Earth. For those defending the Earth, this all-out war for survival supercharged human technology, made friends of foes, and turned allies into bitter enemies. For the aliens known as the Race, the conflict has yielded dire consequences. Mankind has developed nuclear technology years ahead of schedule, forcing the invaders to accept an uneasy truce with nations that possess the technology to defend themselves. But it is the Americans, with their primitive inventiveness, who discover a way to launch themselves through distant space-and reach the Race's home planet itself. Now-in the twenty-first century-a few daring men and women embark upon a journey no human has made before. Warriors, diplomats, traitors, and exiles-the humans who arrive in the place called Home find themselves genuine strangers on a strange world, and at the center of a flash point with terrifying potential. For their arrival on the alien home world may drive the enemy to make the ultimate decision-to annihilate an entire planet, rather than allow the human contagion to spread. It may be that nothing can deter them from this course. With its extraordinary cast of characters-human, nonhuman, and some in between-Homeward Bound is a fascinating contemplation of cultures, armies, and individuals in collision. From the novelist USA Today calls "the leading author of alternate history," this is a novel of vision, adventure, and constant, astounding surprise. From the Hardcover edition.
About the Author
---
Harry Turtledove is the award-winning author of the alternate-history works The Man with the Iron Heart, The Guns of the South, and How Few Remain (winner of the Sidewise Award for Best Novel); the War That Came Early novels: Hitler's War, West and East, The Big Switch, Coup d'Etat, and Two Fronts; the Worldwar saga: In the Balance, Tilting the Balance, Upsetting the Balance, and Striking the Balance;the Colonization books: Second Contact, Down to Earth, and Aftershocks; the Great War epics: American Front, Walk in Hell, and Breakthroughs; the American Empire novels: Blood & Iron, The Center Cannot Hold, and Victorious Opposition; and the Settling Accounts series: Return Engagement, Drive to the East, The Grapple, andIn at the Death. Turtledove is married to fellow novelist Laura Frankos. They have three daughters: Alison, Rachel, and Rebecca.
Praise For…
---
PRAISE FOR HARRY TURTLEDOVE

THE WORLDWAR SERIES

"Readers will have a perfectly delightful time. . . . Turtledove's storytelling and historiography now march in perfect step. World War II buffs will have a particular romp."
–Chicago Sun-Times

"Totally fascinating . . . triumphant . . . possibly the most ambitious in the subgenre's history and definitely the work of one of alternate history's authentic modern masters."
–Booklist

THE COLONIZATION SERIES

"Hugo winner Turtledove lives up to his billing as the grand master of alternative history."
–Publishers Weekly (starred review)

"[A] tour de force of speculative historical fiction. Highly recommended."
–Library Journal