The Victorious Opposition (American Empire, Book Three) (Mass Market Paperbound)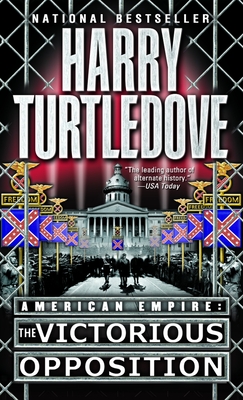 Description
---
Harry Turtledove's acclaimed alternate history series began with a single question: What if the South had won the Civil War? Now, seventy years have passed since the first War Between the States. The North American continent is locked in a battle of politics, economies, and moralities. In a world that has already felt the soul-shattering blow of the Great War, North America is the powder keg that could ignite another global conflict complete with a new generation of killing machines.
Freedom Freedom Freedom In 1934, the chant echoes across the Confederate States of America, a country born of bloodshed and passion, stretching from Mexico to Virginia. But while people use the word to greet each other in the streets, the meaning of Freedom has become increasingly unclear.
Jake Featherston, leader of the ruling Freedom Party, has won power and is taking his country and the world to the edge of an abyss. Charismatic, shrewd, and addicted to conflict, Featherston is whipping the Confederate States into a frenzy of hatred. Blacks are being rounded up and sent to prison camps, and the persecution has just begun. Featherston has forced the United States to give up its toeholds in Florida and Kentucky, and as the North stumbles through a succession of leaders, from Socialist Hosea Blackford to Herbert Hoover and now Al Smith, Featherston is feeling his might. With the U.S.A. locked in a bitter, bloody occupation of Canada, facing an intractable rebellion in Utah, and fatigued from a war in the Pacific against Japan, Featherston may pursue one dangerous proposition above all: that he can defeat the U.S.A. in an all-out war.
The Victorious Opposition is a drama of leaders and followers, spies and traitors, lovers and soldiers. From California to Canada, from combat on the high seas to the secret meetings where former slaves plot a desperate strategy for survival, Harry Turtledove has created a human portrait of a world in upheaval. The third book in his monumental American Empire series, The Victorious Opposition is a novel of ideas, action, and surprise and an unforgettable re-imagining of history itself.
From the Hardcover edition.
About the Author
---
Harry Turtledoveis the award-winning author of the alternate-history worksThe Man with the Iron Heart, The Guns of the South, andHow Few Remain(winner of the Sidewise Award for Best Novel); the War That Came Early novels: Hitler s War, West and East, The Big Switch, Coup d Etat, andTwo Fronts;the Worldwar saga: In the Balance, Tilting the Balance, Upsetting the Balance, andStriking the Balance;the Colonization books: Second Contact, Down to Earth, andAftershocks;the Great War epics: American Front, Walk in Hell, andBreakthroughs;the American Empire novels: Blood & Iron, The Center Cannot Hold, andVictorious Opposition;and the Settling Accounts series: Return Engagement, Drive to the East, The Grapple, andIn at the Death. Turtledove is married to fellow novelist Laura Frankos. They have three daughters: Alison, Rachel, and Rebecca."
Praise For…
---

"Turtledove [is] the standard-bearer for alternate history."
—USA Today

"Turtledove's Great War/American Empire series is an epic achievement, a meticulously worked-out alternate history of the 20th century's great two-act tragedy. . . . Bravo! A fine performance by a master-craftsman."
—S.M. STIRLING
Author of Island in the Sea of Time


American Empire: The Center Cannot Hold

"Turtledove never tires of exploring the paths not taken, bringing to his storytelling a prodigious knowledge of his subject and a profound understanding of human sensibilities and motivations."
—-Library Journal

"We can be assured Turtledove will deliver on the promise of this uncompromising series."
—Locus

American Empire: Blood & Iron

"Anyone who loves a good story with surprising plot twists and vivid characters will love this book. Anyone who loves history will love what Harry Turtledove can do with it."
—LARRY BOND
New York Times bestselling author of Red Phoenix

"A masterpiece . . . Harry Turtledove's novels are never as tense as when war looms on the horizon, threatening to break out but not yet arrived. [American Empire: Blood & Iron] covers some of the most treacherous ground of recent history, and it rarely puts a foot wrong . . . Sure to both please and terrify."
—Sci Fi Weekly

"Nobody plays the what-if game of alternative history better than Turtledove. . . . This book begins a panoramic story, a new trilogy at least, that promises to be immensely fascinating."
—Publishers Weekly (starred review)