The New Love and Sex After 60: Completely Revised and Updated (Paperback)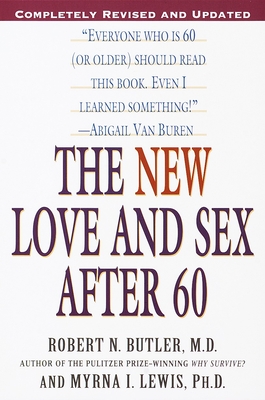 $17.00
Usually Ships in 1-5 Days
Description
---
LIFE CAN BE RICH AND FULL--AT ANY AGE
You may be getting older but love and sex are still a vital part of your life. Here is the book that speaks to your concerns about sex beyond the middle years. Two leading experts have completely updated and revised the classic guide on the subject to address the needs of our changing world in the new millennium. Inside you'll find:
- The truth about aging and how it affects sexual desire and lovemaking
- A thorough guide to common medical problems--and solutions
- New drugs that can improve and enhance sexuality--including the latest on Viagra
- Research on post-menopausal changes
- A detailed look at the procedures for easing and solving sexual problems
- Practical strategies for finding new relationships and staying sexually fit
- Advice to help your adult children understand your new relationships.
About the Author
---
Robert N. Butler, MD, (1927-2010) was the president and CEO of the International Longevity Centre-USA and a professor at Columbia University's Mailman School of Public Health. The author of the Pulitzer Prize-winning Why Survive?: Being Old in America and chair of the Council on Ageing of the World Economic Forum, he was a frequent adviser to international agencies, including the World Health Organization, and served as the medical editor in chief of Geriatrics for more than a decade. Myrna I. Lewis (1938-2005) was a professor at the Mount Sinai School of Medicine, as well as a social worker, gerontologist, and writer. She had a special interest in the social and health issues faced by midlife and older women, which she wrote about often with fellow gerontologist Robert Butler. Their work has been published in many highly regarded books and academic journals.
Praise For…
---
"Marvelous . . . [This book] helps women and men . . . attain what the authors brilliantly delineate as the second language of sex."
--BETTY FRIEDAN

"Everyone who is 60 (or older) should read this book.  Even I learned something!"
--ABIGAIL VAN BUREN