Immortalis (Mass Market Paperbound)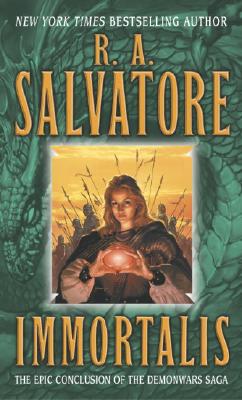 Description
---
IMMORTALIS

In this extraordinary third and final work in the Second DemonWars Saga, R. A. Salvatore weaves a diverse tapestry of characters and events from all the novels of the DemonWars Saga into an epic, unforgettable conclusion. Casting his inimitable spell of the human and supernatural, love and war, faith and faithlessness, Salvatore's crowning work is centered on a dark young king, driven by a quest to remake humankind.
In Honce-the-Bear, King Aydrian Boudabras wakes in a cold sweat, his conscience haunted by those he has killed to garner power, including the rightful king before him, Danube, his mother's husband. Now Aydrian is preparing his armies for war, forging loyalties, playing one adversary against the other, and giving those around him barely a glimpse of his remarkable powers. Even Adyrian does not fully understand what drives his ambition, the guiding voices he first heard from the shadow of Oracle, or the truth of his birth in the elven land before it was stained and mortally threatened by the demon dactyl.
Yet in the neighboring Behren, the evil Yatol Bardoh is unleashing a war engine of his own, using armies of mercenaries and horrific tactics to bring down the walls of Jacintha and to drive a ferocious dragon from the city of Dharyan.
Between these two men, an explosive chain of events has been set into motion. Refugees flood the roads and valleys, alliances are formed and broken, navies clash at sea, and assassins seek their moment to strike. With Aydrian's power and popularity turning into an avalanche, and the courageous Brynn Dharielle valiantly standing in the way of the Yatol Bardoh, the great players in the DemonWars Saga will unite and clash on a single, magnificent stage.
But as the lands run with blood, there are no adversaries like a mother and her long-lost son. For Jilseponie, once queen of Honce-the-Bear, has discovered the truth of her son Aydrian's birth. And now she becomes the only mortal on earth with magic enough to stop her own son by any means necessary from his cataclysmic quest. . . .
From the Hardcover edition.
About the Author
---
R. A. Salvatore was born in Massachusetts in 1959. He is the author of the DemonWars trilogy: The Demon Awakens, The Demon Spirit, and The Demon Apostle, as well as the novels in the Second DemonWars Saga: Ascendance and Transcendence. He is also the author of Mortalis, The Bastion of Darkness, the New York Times bestseller Star Wars(r) The New Jedi Order Vector Prime, and the novel based on the screenplay Star Wars Episode II: Attack of the Clones. He lives in Massachusetts with his wife, Diane, and their three children. Visit the author s Web site at www.rasalvatore.com From the Hardcover edition."