Dave Barry Slept Here: A Sort of History of the United States (Mass Market Paperbound)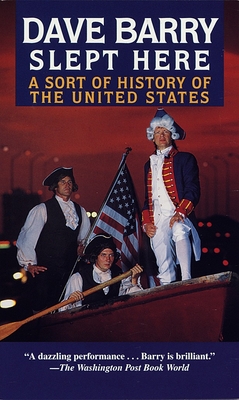 $7.99
Usually Ships in 1-5 Days
Description
---
If you love to laugh, if you love your country, if you are unaware that "the Sixth Amendment states that if you are accused of a crime, you have the right to a trial before a jury of people too stupid to get out of jury duty," Dave Barry Slept Here is the book for you. Every single momentous event and crucial movement is covered, including: The Birthing Contractions of a Nation
Kicking Some British Butt
The Forging of a Large, Wasteful Bureaucracy
The Civil War: A Nation Pokes Itself in the Eyeball
The Fifties: Peace, Prosperity, Brain Death
The Reagan-Bush Years: Napping Toward Glory
And much more.
About the Author
---
Dave Barry is a Pulitzer Prize-winning journalist for the Miami Herald. He is the author of numerous bestsellers, including the recent Dave Barry in Cyberspace. He lives in Miami, Florida.