Departures (Mass Market Paperback)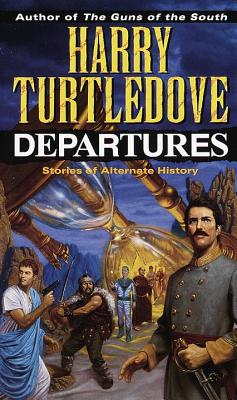 Description
---
What if history had taken a different path, made a detour, and deviated just a little bit from the road it chose? Here, Harry Turtledove explores such "what ifs" in twenty alternate-history stories ranging from ancient times to the far, far-different future.
Persia has conquered Greece; Athens is in ruins. Yet even under Persia's rule, the power of the people can never be completely broken. . .
A werewolf boy tears through Cologne's medieval stretts in search of sanctuary from the angry mob. But who will shelter a creature so hated and feared?
A student from the far-off future sets off on a field trip to study Genghis Khan -- and finds him in the twentieth century?
And many more
"He's one of the finest explorers of alternate histories ever." -- Locus.
About the Author
---
Harry Turtledoveis the award-winning author of the alternate-history worksThe Man with the Iron Heart, The Guns of the South, andHow Few Remain(winner of the Sidewise Award for Best Novel); the War That Came Early novels: Hitler s War, West and East, The Big Switch, Coup d Etat, andTwo Fronts;the Worldwar saga: In the Balance, Tilting the Balance, Upsetting the Balance, andStriking the Balance;the Colonization books: Second Contact, Down to Earth, andAftershocks;the Great War epics: American Front, Walk in Hell, andBreakthroughs;the American Empire novels: Blood & Iron, The Center Cannot Hold, andVictorious Opposition;and the Settling Accounts series: Return Engagement, Drive to the East, The Grapple, andIn at the Death. Turtledove is married to fellow novelist Laura Frankos. They have three daughters: Alison, Rachel, and Rebecca."