The Silkworm (Paperback)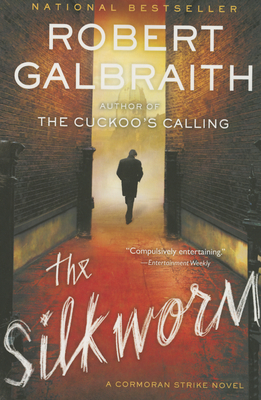 Staff Reviews
---
I love J.K. Rowling. Well, yes Harry Potter. But. Her ex-Hogwarts work is first rate. In this, the second of a series of British murder mysteries, she delivers the goods with a solid punch. Any reader of whodunits will find this a satisfying compelling thriller of an experience.
Cormoran Strike (named after the giant that Jack killed) is a character you have to love. Crippled, haunted, lovelorn, driven and chained to a self-imposed code of ethics that is harshly strict, he begs the reader to want to back him up, to accompany him to dangerous meetings, to defend him against unwarranted skepticism by the police and the frequent social disaffection elicited by his rough appearance. As a character, he puts me in mind of the famous noir detective Sam Spade. He has strong morals deployed in a mileu most of us don't inhabit.
Grisly murder, British publishing and its attendant eccentrics, an attractive but unavailable associate, a developmentally challenged teen, a naive widow, a painful prosthesis where his lower leg used to be: these are some, only some of what Strike has to deal with to get the job done. Add to this the perception among the police that he's a glory hound due to his solving a high-profile murder at which they had failed and a personal life that's a minefield of toxic relationships and the unfortunate illegitemacy that his rockstar father bequeathed to him and you have a helluva hill to climb, if you're Cormoran Strike.
Forget Harry P. Here Galbraith/Rowling has moved into completely adult realms with a bloody good tale. The writing is superb, elegant even, and flows briskly with no doldrums. Try it: you'll like it.
— Eric has been a fixture at Tattered Cover for decades and he has always been an insatiable reader
Description
---
Private investigator Cormoran Strike returns in a new mystery from Robert Galbraith, author of the #1 international bestseller The Cuckoo's Calling. When novelist Owen Quine goes missing, his wife calls in private detective Cormoran Strike. At first, Mrs. Quine just thinks her husband has gone off by himself for a few days--as he has done before--and she wants Strike to find him and bring him home.
But as Strike investigates, it becomes clear that there is more to Quine's disappearance than his wife realizes. The novelist has just completed a manuscript featuring poisonous pen-portraits of almost everyone he knows. If the novel were to be published, it would ruin lives--meaning that there are a lot of people who might want him silenced.
When Quine is found brutally murdered under bizarre circumstances, it becomes a race against time to understand the motivation of a ruthless killer, a killer unlike any Strike has encountered before...
A compulsively readable crime novel with twists at every turn, THE SILKWORM is the second in the highly acclaimed series featuring Cormoran Strike and his determined young assistant, Robin Ellacott.
About the Author
---
Robert Galbraith is a pseudonym for J.K. Rowling, author of the Harry Potter series and The Casual Vacancy.