Mr. Rosenblum Dreams in English (Paperback)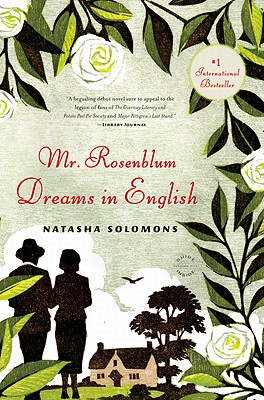 $14.99
Usually Ships in 1-5 Days
June 2011 Indie Next List
---
"In fun and bittersweet bites, this debut comic novel follows a German couple who emigrate to England during World War II, where they set about becoming quintessentially English, with all the trappings: orange marmalade, thatched cottage, golf club, and other the bits and bobs. It's a delightful diversion for all Anglophiles!"
— Mark David Bradshaw, Watermark Books, Wichita, KS
Description
---
In her tender, sweetly comic debut, Natasha Solomons tells the captivating love story of a Jewish immigrant couple making a new life--and their wildest dreams--come true in WWII-era England.
At the outset of World War II, Jewish refugees Jack Rosenblum, his wife Sadie, and their baby daughter escape Berlin, bound for London. They are greeted with a pamphlet instructing immigrants how to act like "the English." Jack acquires Savile Row suits and a Jaguar. He buys his marmalade from Fortnum & Mason and learns to list the entire British monarchy back to 913 A.D. He never speaks German, apart from the occasional curse.
But the one key item that would make him feel fully British-membership in a golf club-remains elusive. In post-war England, no golf club will admit a Rosenblum. Jack hatches a wild idea: he'll build his own.
It's an obsession Sadie does not share, particularly when Jack relocates them to a thatched roof cottage in Dorset to embark on his project. She doesn't want to forget who they are or where they come from. She wants to bake the cakes she used to serve to friends in the old country and reminisce. Now she's stuck in an inhospitable landscape filled with unwelcoming people, watching their bank account shrink as Jack pursues his quixotic dream.
About the Author
---
Natasha Solomons is a screenwriter who lives in Dorset, England. Mr Rosenblum Dreams in English is her first novel and was inspired in part by her childhood spent at the cottage her own grandparents bought with restitution money from Germany. The recipes in the novel are from her grandmother's ancient cookbook. Solomons' most recent novel is the New York Times bestseller The House at Tyneford.