Restless in the Grave (Mass Market Paperbound)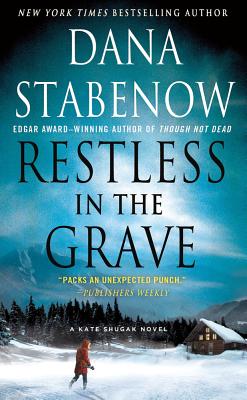 Description
---
Restless in the Grave
Dana Stabenow
When aviation entrepreneur Finn Grant dies in the fiery crash of his Piper Super Cub, state trooper Liam Campbell has reason to believe it's sabotage. Virtually everyone in southwestern Alaska has a motive--including Grant's betrayed wife, his bullied children, and even Liam's own wife, bush pilot Wyanet Chouinard. With few places to turn, Liam seeks outside help from the friend of a friend--a private investigator named Kate Shugak...
Working undercover as a waitress at Bill's Bar and Grill in Newenham, Kate learns over beer and burgers that Grant's business had expanded meteorically. After buying a closed Air Force base from the government, he ran a fixed-base operation for fishing, hunting, and flight-seeing, as well as a lucrative air freight service. But what kind of freight was he moving, and where? The answers lead Kate on her most challenging case yet, from the fateful wreckage to family secrets to full-scale conspiracy and beyond...
About the Author
---
DANA STABENOW, a New York Times bestselling author and Edgar Award winner, is the author of seventeen previous seventeen Kate Shugak novels, four Liam Campbell mysteries, three science-fiction novels, and two. She was born, raised, and lives in Alaska, where she was awarded the Governor's Award for the Humanities.
Praise For…
---
Praise for DANA STABENOW…
RESTLESS IN THE GRAVE
A Kate Shugak Novel
"Entertaining 19th novel featuring the brash, fearless PI [Kate Shugak]…The book sparkles with energy and wit, and packs an unexpected punch."—Publishers Weekly
"A combination of fast and furious adventure and the beauty and complexity of Alaska."—Kirkus Reviews
THOUGH NOT DEAD
A Kate Shugak Novel
"In her newest Kate Shugak thriller, Stabenow proves she's as comfortable dealing with Alaskan history as she is portraying Kate's insular contemporary world and the harsh, beautiful, changing landscape she and her extended family call home… A stand-out entry in a consistently good series."—Booklist (starred review) 
"The latest in Dana Stabenow's robust series [is] her most far-reaching Shugak story yet, ambitiously incorporating some of Alaska's colorful history."—Seattle Times 
"In Edgar-winner Stabenow's brilliant 18th novel to feature the feisty Alaska detective…Kate is at her butt-kicking best as she and Mutt, her inseparable half-wolf, half-husky companion, deal with murder, theft, and deception."—Publishers Weekly (starred review) 
"Full of historical mystery, stolen icons, burglaries, beatings, and general mayhem…The plot bursts with color and characters… If you have in mind a long trip anywhere, including Alaska, this is the book to put in your backpack."—Washington Times  
"This one holds readers' interest with fascinating tidbits of Alaskan history from 1918 to 1965 as seen through Old Sam's eyes. Sure to be popular with lovers of the series as well as those who enjoy reading novels set in Alaska."—Library Journal  
"P.I. Kate Shugak is back in this atmospheric novel that conveys a deep love of the land, history and cultural traditions of Alaska. The strong—and strong-willed—characters are fully developed —including the lovable and dependable half-wolf dog, Mutt…You will be savoring the details of this richly textured story. If you haven't read the earlier novels, don't worry. You will still enjoy this one."—RT Book Reviews