Though Not Dead: A Kate Shugak Novel (Mass Market Paperbound)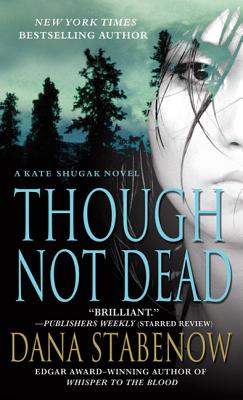 Description
---
"Kate Shugak will go to the ends of the earth to solve one Alaskan family's epic mystery in" "this breathtaking novel from "New York Times" bestselling author "Dana Stabenow
The residents of Alaska's largest national park are still stunned by the death of one of its lifelong residents: Eighty-seven-year-old Old Sam Dementieff. Dubbed the "father" of all of the Park rats although he had no children of his own Sam was especially close to his niece, P. I. Kate Shugak. Even so, she more than anyone is surprised to discover that in his will he's left her everything including a letter instructing her simply to "find my father."
Easier said than done. Sam's father scandalously disappeared after his birth, taking with him a priceless tribal artifact, a Russian icon. Now, just three days into her investigation, Kate finds herself being threatened and worse. The flashbacks from Sam's fascinating life, including scenes from major events in Alaska's colorful history, punctuate a gripping story in which Kate does her best to fulfill Sam's last wish. Meanwhile, an unknown enemy is on her trail and will stop at nothing to make sure that the truth about Sam's father stays buried.
About the Author
---
Dana Stabenow is the New York Times bestselling author of the Kate Shugak mysteries and the Liam Campbell mysteries, as well as a few science fiction and thriller novels. Her book A Cold Day for Murder won an Edgar Award in 1994. Stabenow was born in Anchorage, Alaska and raised on a 75-foot fish tender in the Gulf of Alaska. She has a B.A. in journalism and an M.F.A. in writing from the University of Alaska. She has worked as an egg counter and bookkeeper for a seafood company, and worked on the TransAlaska pipeline before becoming a full-time writer. She continues to live in Alaska.
Praise For…
---
"In her newest Kate Shugak thriller, Stabenow proves she's as comfortable dealing with Alaskan history as she is portraying Kate's insular contemporary world and the harsh, beautiful, changing landscape she and her extended family call home… A stand-out entry in a consistently good series."—Booklist (starred review) 
"The latest in Dana Stabenow's robust series [is] her most far-reaching Shugak story yet, ambitiously incorporating some of Alaska's colorful history."—Seattle Times 
"In Edgar-winner Stabenow's brilliant 18th novel to feature the feisty Alaska detective…Kate is at her butt-kicking best as she and Mutt, her inseparable half-wolf, half-husky companion, deal with murder, theft, and deception."—Publishers Weekly (starred review) 
"Full of historical mystery, stolen icons, burglaries, beatings, and general mayhem…The plot bursts with color and characters… If you have in mind a long trip anywhere, including Alaska, this is the book to put in your backpack."—Washington Times  
"This one holds readers' interest with fascinating tidbits of Alaskan history from 1918 to 1965 as seen through Old Sam's eyes. Sure to be popular with lovers of the series as well as those who enjoy reading novels set in Alaska."—Library Journal  
"P.I. Kate Shugak is back in this atmospheric novel that conveys a deep love of the land, history and cultural traditions of Alaska. The strong—and strong-willed—characters are fully developed —including the lovable and dependable half-wolf dog, Mutt…You will be savoring the details of this richly textured story. If you haven't read the earlier novels, don't worry. You will still enjoy this one."—RT Book Reviews
…and these other novels from New York Times bestselling author Dana Stabenow
A NIGHT TOO DARK
"Stabenow is blessed with a rich prose style and a fine eye for detail…It's an outstanding series and one that has, in fact, won awards and begun to turn up on bestseller lists here in the Lower 48. If you've never visited Alaska, it's also an intriguing introduction to that big, brawling, rather bewildering state."—The Washington Post
"Stabenow deftly explores the environmental and economic impact of gold mining in her sizzling 17th novel to feature Alaska PI Kate Shugak."—Publishers Weekly
"This finely evoked world of sod-roofed cabins and mining pre-fabs is still a place well worth visiting."--The Houston Chronicle  
"Kate Shugak, the Aleut private eye, demonstrates why she is considered one of the best among female sleuths in A Night Too Dark, the latest episode in Dana Stabenow's long-running Alaska-based series."--San Diego Union-Tribune
"Kate Shugak's dark side is on display in Stabenow's 17th series novel… There isn't a stone left unturned as Stabenow exhumes old memories and new problems in a book taut with danger."—Romantic Times BOOKreviews
WHISPER TO THE BLOOD
A Kate Shugak Novel
"Grade: A. Some of the greatest mystery writers enrich us with their wonderful sense of place. Stabenow is one of them: Alaska's answer to Tony Hillerman, she brings us the sights and sounds that few visitors will ever know…If you haven't discovered Stabenow yet, start here—then go back to A Cold Day for Murder and enjoy the whole story."—Rocky Mountain News
"Excellent… No one writes more vividly about the hardships and rewards of living in the unforgiving Alaskan wilderness and the hardy but frequently flawed characters who choose to call it home. This is a richly rewarding regional series that continues to grow in power as it grows in length."—Publishers Weekly (starred review)
"One of the best… A dynamite combination of atmosphere, action, and character."—Booklist (starred review) 
"There are now 15 Kate Shugak novels in this excellent series set in backwoods Alaska, and rather than losing steam, Stabenow is building it. Whisper to the Blood is the best Shugak so far…Stabenow is terrific at building a story, and keeping the suspense tight and the story moving. I love her descriptions of local life, the cast of eccentric but believable characters, and the glimpses of this stunningly beautiful part of the world."—The Globe and Mail  
A DEEPER SLEEP
A Kate Shugak Novel
"A cleverly conceived and crisply written thriller."—San Diego Union-Tribune
"A splendid series."—USA Today
"An engaging plot…a vivid depiction of the Alaskan wilderness."—Booklist
"All the elements that have made this series successful shine." —Publishers Weekly (starred review)
Prepared for Rage
 "A frightening, tightly written thriller."—Kirkus Reviews
 "Apollo 13 meets United 93…Stabenow knows Coast Guard and astronaut lingo."
—Entertainment Weekly
"Stellar…entertainment and suspense of a high order."—Publishers Weekly (starred review)
BLINDFOLD GAME
"Edge-of-seat quotient: High." —Entertainment Weekly
"[An] explosive climax."—San Francisco Chronicle
"Action-packed…an ingenious plot."—Denver Post
"The author jacks up the adrenaline."—People
"The drama [is] so harrowing you'll be looking for a life vest before the last wave drenches you…. [A] smashing maritime adventure." —Mystery Scene
"Stabenow's descriptions of the ensuing duel at sea…make for edge-of-seat stuff….And the creepy, authentic-sounding terrorist scenario will make readers sit up and take notice of a state that some Americans forget is actually there." —Booklist
"[E]xcellent."—Publishers Weekly (starred review)
"Blindfold Game, like its predecessors, can be read on two levels—as a cleverly-executed thriller with an intriguing protagonist or as a fascinating exploration of an exotic society with its own unique culture. Either way, you can't lose."—San Diego Union-Tribune
A TAINT IN THE BLOOD
A Kate Shugak Novel
"A powerful tale of family secrets to include murder and blackmail."—Midwest Book Review
"Every time I think Dana Stabenow has gotten as good as she can get, she comes up with something better."—Washington Times
"If you haven't discovered this splendid North Country series, now is the time…highly entertaining."—USA Today
"Full of strong story and sharp description…as perfect a description of a spoiled wilderness as any I've read that it deserves to be noted as one of her best…what makes Stabenow stand out is the way she plants us firmly in the soil of Alaska."—Chicago Tribune
"With escalating suspense and Kate's sensuous new love affair with Alaska state trooper Jim Chopin, this book reveals previously hidden depths of Kate's personality. New readers will be enthralled by Stabenow's latest read, a standout in the mystery genre."—Romantic Times
"Promising intrigue."—Kirkus Reviews