Whisper to the Blood: A Kate Shugak Novel (Hardcover)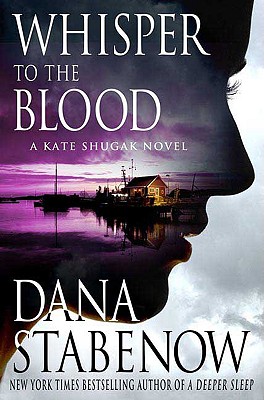 Description
---
Inside Alaska's biggest national park, around the town of Niniltna, a gold mining company has started buying up land. The residents of the Park are uneasy. "But gold is up to nine hundred dollars an ounce" is the refrain of Talia Macleod, the popular Alaskan skiing champ the company has hired to improve their relations with Alaskans and pave the way for the mine's expansion. And she promises much-needed jobs to the locals.

But before she can make her way to every village in the area to present her case at town meetings and village breakfasts, there are two brutal murders, including that of a long-standing mine opponent. The investigation into those deaths falls to Trooper Jim Chopin and, as usual, he needs Kate to help him get to the heart of the matter.

Between those deaths and a series of attacks on snowmobilers up the Kanuyaq River, not to mention the still-open homicide of Park villain Louis Deem last year, part-time P.I. and newly elected chairman of the Niniltna Native Association Kate Shugak has her hands very much full.

Dana Stabenow's Kate Shugak series continues to be beloved among crime fiction fans, but also provides a fascinating window into life and death in Alaska.
About the Author
---
Dana Stabenow, a "New York Times" bestseller and Edgar Award winner, is the author of sixteen Kate Shugak mysteries, four Liam Campbell mysteries, three science fiction novels, and two thrillers, and she also freelances for Alaska magazine. She was born, raised, and lives in Alaska, where she was awarded the Governor's Award for the Arts and Humanities in 2007.
Praise For…
---
Praise for Dana Stabenow and Kate Shugak

"When I'm casting about for an antidote to the sugary female sleuths, . . . Kate Shugak, the Aleut private investigator in Dana Stabenow's Alaskan mysteries, invariably comes to mind."
—The New York Times on A Deeper Sleep

"Stabenow once again presents us with a cleverly conceived and crisply written thriller that provides a provocative glimpse of life as it is lived and justice as it is served on America's last frontier."
—San Diego Union-Tribune on A Deeper Sleep

"All the elements that have made the author's signature Kate Shugak crime series successful shine in this fifteenth entry: Kate's personal growth as a woman and as an investigator, the Alaskan environment in all its unforgiving beauty, and a mystery whose solution remains in doubt until the end."
—Publishers Weekly (starred review) on A Deeper Sleep

"Full of strong story and sharp description . . . it deserves to be noted as one of her best."
—Chicago Tribune on A Taint in the Blood

"Every time I think Dana Stabenow has gotten as good as she can get, she comes up with something better."
—The Washington Times on A Taint in the Blood

"A taut, atmospheric thriller . . . The author paints convincing portraits of masterminds, mercenaries, and CIA operatives, and jacks up the adrenaline with a high-speed ocean chase."
—People magazine on Blindfold Game

"A tense and tautly written thrill ride that keeps readers hooked all the way to the explosive climax . . . By the time the plot kicks into high gear, the setting is firmly established as both authentic and believably dangerous."
—San Francisco Chronicle on Blindfold Game